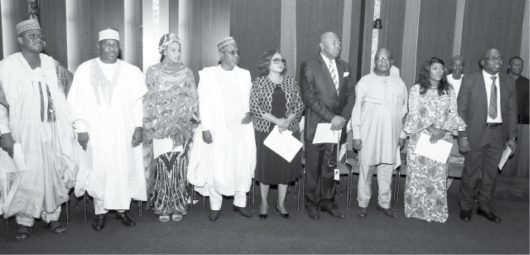 President Muhammadu Buhari, Monday, revealed that some federal agencies were still diverting government funds, carrying on as they were doing before he came to power in 2015. He spoke during the inauguration of a nine-member board of the Independent Corrupt Practices and Other Related Offences Commission (ICPC). It is headed by Professor Bolaji Owasanoye. The President said "….despite our anti-corruption drive, some agencies of government still divert or refuse to fully account for revenue generated. Rather than obey constitutional provisions and extant rules and regulations, such agencies continue as if nothing has changed. We are determined to ensure that every agency of government account for public revenue generated or expended. I am looking forward to ICPC supporting both enforcement of anti-corruption laws and submission of policy measures and directives to prevent revenue leakage and diversion."
Buhari reminded the ICPC members and government officials present during the swearing-in of "the damage that unbridled corruption has inflicted on our development aspirations. Apart from deliberate and wanton looting of our national wealth and common patrimony, corruption has eroded our values and ethical foundation as a nation. Corruption has negatively affected our political, economic and social life. Those opposed to our fight against corruption berate us for our focus, determination and single mindedness.
"They pretend that they do not know what corruption is. But Nigerians know what corruption is. Ordinary people know what corruption is and they support our effort and determination to fight it. The abuse of public office for private gain represents corruption in its worst form. The circumvention of public policies and processes for competitive advantage and profit is another form of corruption. The abuse of public office for personal benefit even if no bribery occurs is also corruption. The diversion of state revenue or miss-application of budgeted funds falls into the same category."
It is natural for the President to feel disappointed that corruption that he has placed his political life on the line to fight is still there, right under his nose. However, a statement of the fact need not be a lament. Political opponents are wont to see it as an admission of failure and will exploit it to their advantage in an election year. However, they are wrong. What the President means is that the war on corruption will be long and difficult. As he often says, "corruption will always fight back". Defeating it requires focus and single-mindedness.
It is important the President does not give in to despair, but let him stay the course. As he himself has admitted, "the fight against corruption is very crucial in our national development. This is why I have often said if we do not kill corruption, corruption will kill Nigeria." Then kill corruption we must.