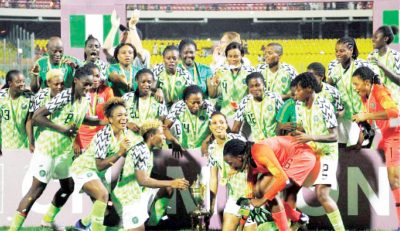 By Amaechi Agbo
Some state governors have expressed their desire to host the victorious Super Falcons of Nigeria who Saturday defeated South Africa 4-3 on penalty to be crowned queen of African football for the 9th time.
President of the Nigeria Football Federation, NFF, Amaju Pinnick disclosed this to the Super Falcons yesterday while addressing them in their hotel base in Abuja.
Pinnck, who for the umpteenth time, commended the players and their coaching crew for making Nigeria proud and showcasing the dogged spirit of Nigerians against all odds in the Ghana 2018 Africa Women Cup of Nation, also added that some sponsors are on the queue to host them team.
The NFF boss who did not mention the state governors nor the sponsors, said that the hosting by the partners will be done after the President Mohammadu Buhari had hosted them.
"Already our sponsors are lining up to host and honour you for your achievement, as well as some State governors who have indicated their interest in hosting you, but all that will be after the President hosts you."
He further promised that the Federation will support the programme of Super Falcons' Coach Thomas Dennerby to ensure that the team is well prepared for the 2019 World Cup in France.
"We are already working with the coach who has submitted his plans for the World Cup to us. Also, I am talking to some European Federation presidents and the President of European Union Football Association, Aleksander Ceferin to secure friendly matches for the team in preparation for the World Cup.
"I want to congratulate and also thank you once again for what you did on Saturday, making us all proud. You see, you displayed the quintessential Nigerian Spirit. You showed that the Nigerian flag strengthened you and that is why, even during the extra time, you were not tired," he said when he visited the team at their Starview Hotel, Abuja in the company with the NFF General Secretary, Sanusi Mohammed and Head of Women Football, Ruth David.
"We can't thank our father, President Buhari enough for his immense support to Nigerian Football. The President is really happy for what you have done which has never been done by any women national team. Germany and America have dominated their respective confederation championships, winning eight titles each, but no country has ever won nine times. That is why the President wants to meet you as soon as possible," he said.