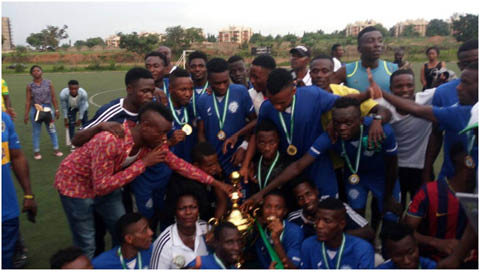 By Amaechi Agbo
FCT FA Aiteo Cup debutants, Sporting Dreams FC have continued to relish their semifinal debut finish at the just concluded tournament in the FCT.
The young team coached by former Nigerian male Olympics team coach, Dream Team XI at Rio 2016 Olympics, Nnamdi Onuigbo, who were considered underdogs prior to the tournament, dismantled opponents such as Nigeria National League clubs enroute to its semifinal success.
After weeks of intensive training and adequate preparations, Sporting Dreams FC despite being huge underdogs in their debut season in the FCT Aiteo Cup, took the federal capital by storm.
They defeated Citizens FA who paraded former World Cup winner Juwon Oshaniwa, on penalties before they unleashed their venom and whitewashed Nigeria National League side, NAF FC 5-1 with talismanic striker, Friday Omoregie, bagging a hat trick.
Just when the fans thought they had seen enough of the young lads, the team became too hot for their next opponents, NYSC FC to handle by handing them a 2-1 defeat to qualify for the semifinal of the FCT Aiteo Cup on their debut season.
At this point it was no more news that a youthful exciting team full of quality players including the likes of Dickson Igiebor, Imiefan Francis, Friday Omoregie amongst others, were in the tournament to dominate.
With semifinal belt secured, Sporting Dreams then had another NNL team to navigate if they were to play in the finals of the 2018 FCT FA finals
Having raised the bar already following their breathtaking football and the manner they defeated opponent's even those they were "expected" to lose, the Kubwa-based lads had EFCC FC to contend with.
And just as their job is outside the pitch, the financial crime commission team was able to checkmate the dream guys "excesses" by beaten them 2-1 with the winning goal coming at the last kick of the match. But despite the loss, there were more positives to take home from a largely youthful team who made their mark in the tournament.
Speaking in an interview, head coach of Sporting Dreams FC, Nnamdi Onuigbo said although the team's target was to play in the final and represent FCT at the national level, he nonetheless praised his wards for bowing out with dignity at the tournament. He expressed optimism that with the quality displayed by his lads, agents are bound to make enquiries about some of the players they paraded.
"Despite that we wanted to make history by reaching the finals and thus qualify to represent the FCT at the national finals, we can hold our heads high at the level of quality performance my players put in every game day.
"No one expected this from a youthful side like this, but our quality shone through. We will definitely be fielding calls from a lot of top agents and managers who have indicated interest in working with our numerous talented players. We have made our mark. Our fans can rest assured that We will continue to keep the bar extremely high," he said.
With the FCT FA Aiteo Cup finals concluded, Sporting Dreams FC will now shift attention to Stephen Keshi U17 tournament holding in Benin, Edo Stae capital, next month.