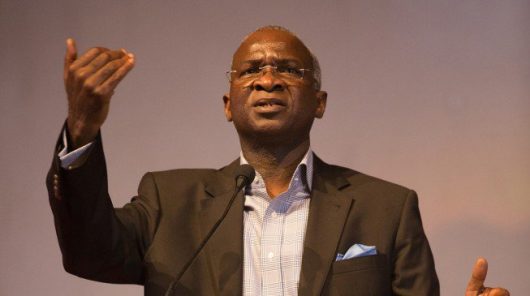 By Etuka Sunday
The Minister of Power, Works and Housing, Mr Babatunde Raji Fashola has urged the Director, Research and Advocacy of Association of Nigerian Electricity Distributors (ANED), Mr Sunday Oduntan to advise his clients (DisCos) to spend the money used in publishing media responses to fix power problems, which he gave as: bad lines, transformers and meters to their consumers.
Recall, the power Distribution Companies under their umbrella association: "ANED" faulted the directives of Fashola to Nigerian Electricity Regulatory Commission (NERC) to ensure that DisCos deliver an improved services to the electricity consumers.
DisCos however, said that the directives was not only political but was given to present them as the weakest link in the Electricity Chain in Nigeria.
Meanwhile, in his response, in a Press Release issued in Abuja, Fashola said, "Oduntan should advise his clients to spend the money used in publishing media responses to fix these problems to restore bad lines, and provide transformers and meters to their consumers".
The Minister said, "as for the allegation that figures of power generation and distribution released by me are not true, the taste of the pudding lies with those who eat it.
"Electricity consumers know what their experience was in 2015, 2016, 2017 and today.
"These figures have been released many months back when we reached those milestones as part of my monthly report and roadmap of incremental power".
He said, "If the DisCos connect with their consumers, they will hear from them first-hand, how traumatized they feel about load shedding, absence of meters and estimated billing.
"The GenCos, who are short paid because the DisCos under-remit in spite of high estimated billing to consumers, will tell DisCos how they feel.
"My directives seek to rectify these problems because I believe they can be rectified".
Fashola said, "If Oduntan truly speaks for the DisCos, which I doubt, he should ignore the messenger (Fashola) and advise those for whom he acts as surrogate, to focus on the message.
"The message is simple: Electricity consumers (which include Fashola), want better service; NBET wants its money; about N800 billion, so she can pay GenCos;
"If DisCos can prove that FGN owes more than what we admit, they should deduct (N72 billion) from N800 billion and pay the remaining N728 billion which they owe NBET;
"DisCos should respond to the query from the Ministry of Power, Works and Housing as to why 408 feeders, which have a capacity to deliver 5,756MW of power to consumers only carry 444MW because of faulty lines, bad equipment and load shedding?
"Oduntan should interprete this and tell the public whether it is the Ministry who should fix these lines and whether the unused energy will not reach the consumers if the feeders are put to use.
"These are part of the subject of my directives to NERC to address deliberate load shedding", the Minister said in the statement.