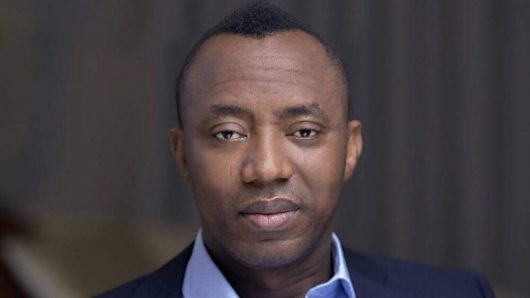 WEDNESDAY COLUMN by USSIJU MEDANER
info@medaner.com, justme4justice@yahoo.com
Unlike so many other denominators that are relative, and selectively affect individuals and groups, security isn't relative. It is every one problem and challenge alike.
Discussing the current state of our national security is a foremost obligation. Security is a broad topic and multifaceted. Providing adequate security for the citizens implies giving them an all-round and encompassing security covering a broad range of fields and dealings.
While we strive for and lead dialogues and protest for a better life, we fail to recognize that the social, economic and physical well-being that we crave for are outcomes premised on available security which is far beyond physical security as play by most Nigerians.
We must discuss the necessities of guaranteeing the speech security of Nigerians as well as state the limit of enjoying the freedom of such; when we all, government and citizens alike without pressure understand fully the spirit and soul of the freedom of speech as a fundamental human right. When we captured the inalienable freedom possess by the ruled to constructively despise, challenge and criticize their rulers and create ample space to accommodate it. When the citizens come to the realization of the limits of the freedom of speech; knowing that talk is cheap but yet could come with divisive and destructive consequences both to the source and the community; when our outbursts on all media produce only one result; force the government to sit up; when we abolished the age long conception of getting politically and socially popular on the back of activism that berate the system only for the fame that come from it.
We should therefore mirrored the overall security concept and realities of our nation with a view to understand where we are coming from, where we are now and where our present efforts and actions as it relates to procuring security for Nigerians are capable of taking us to tomorrow.
From Boko haram, to kidnaping to herder/farmers conflict, political thuggery, socio political violence and the likes, we lost out on the real causes of almost all these failure of security. Boko Haram, ravaged our land, killed thousands of innocent Nigerians without selecting tribe or religious affiliation or location. The group literally brought us to our knees years back; nowhere was safe, not even the Federal Capital Territory. We had and are still spending billions of Naira to keep the sect at bay while we rebuild the devastated territories and lives. The sudden proliferation of the invasion of kidnappers, killer " militants " and high way robbers and bandits were not totally different from the insurgent attacks. We get decimated from all corners and our sense of insecurity heightened by the day.
In all these, we have not until now become sensible enough to consider what is more important as a people; the insecurity that breed insecurity. Why do we have the Boko Haram? Why the increased in kidnaping? Why the herdsmen-farmer clashes? We have not discussed the inordinate activism and socio-economic insecurity that grew into physical assaults manifested in the aforementioned.
In the recent past and till now, the activities of Sowore and those drumming for him even those financing his activities(for political gains), if not properly managed would have caused the nation a major security problem. What I am trying to say is that discussing our physical security challenges must begin with discussing the seemingly intangible but more important mental security challenges like what the planners of the ongoing Sowore saga want.
We should as a matter of fact, grow beyond emotional sentiments and biases to understudy the links between our very many insecurity manifold and the many inhuman and untamed ambitions of politicians seeking political elevations. It is almost impossible to discuss any major crime and insecurity in Nigeria without mentioning a political interest, therefore, must of our crimes and criminalities are socio-politically related.
Not too long ago, the dastard Offa robbery dealt a blow to all of us; but we all are in the know that ongoing investigation is revealing how the perpetrators were an arm thugs of a highly Kwara politician operation unit. Lives were wasted in the build up to the 2019 elections by the " panthom killer herdsmen" that suddenly evaporate after the elections; words around the corners are saying the menace could only vapourise that way if it was politically planned for the period it lasted only, and I cannot not agreed any less. Rivers state was turned to a killer den because politicians needed to take control of territories and criminals were born and replicated in their thousands.
We must grow to realize that activism in Nigeria has been taken to a new level; a level that has not only become dangerously responsible for growth of insecurity in the country but is grooming more active and deadly consequence of hatred towards the system and also, this has sharply divided the citizens along ethno-religious and regional lines . Individuals and groups have overtime become commercial activists, feeding robustly on the ignorance and desire of the suffering masses to have someone speaking for them. These elements, further populated by desperate politicians who would do anything to get power, this ugly trend must be stopped by all legal means possible if we really want this country to be safe.
I will give a summarised view of the Sowore drama before taking time to discuss details:
For most of us Nigerians, because facts are irrelevant when we need to feed our negative biases and emotional sentimental inclinations. Most of us did not even bother to see and carefully analysed the circulating videos, but rather rely on hearsay coming mostly from our social media handles which already is begging for regulation as it's done in other developed climes.
The DSS complied with earlier court ruling to release Sowore but that ruling did not say that he must not be rearrested and of course no law of our land prevents an arrest at any time or at any location if there is proper documented permission for the arrest. So the DSS decision to arrest him cannot be a subject of public ridicule because it is legally in order.
Whether you are innocent or otherwise, the law does not give anyone the liberty to resist arrest. Resisting or attempt to resist an arrest being executed by any security agency is a serious offence on its own. Senator Melaye is currently in court answering to that offence.
We should all be expecting fresh or amended charges against Sowore within 48 hours of his re-arrest, this is because the law permits the enforcing agency that space.
There were so much drama that day, but that can be fed to us because we already have chosen the path of accepting anything as long as it is against the one we hate. DSS wearing native apparels to effect an arrest, no, some of us are not fooled by that drama, in fact no Nigeria is fooled but for those who preferred what they are propagating as what they want.
Now, to my personal submission; the current Sowore travail is a figment of the Nigeria security stature. Building the premise for discussing the ordeal, I would make a detour to present the scenario of the Senator Orji Uzor Kalu court conviction; in 2007, a petition written and signed by a group led by Senator T A Orji was submitted to the EFCC. The petition detailed corrupt practices of Senator Orji Uzor Kalu while serving as Abia state governor. Though the offense is against the Nigerian state, the petition was written by his fellow Easterners who equally came to court to testify against him. Days ago, the former governor was convicted and suddenly a new narrative emerged; that the Buhari government has used and dumped Kalu. A section of the country are already angered that it is a calculated attempt by another section to annihilate their region political bigwigs in preparation for 2023( these are the views of the likes of Fani kayode); yet these same people had been busy abusing the same government of shadowing and protecting corrupt politicians who cross-carpeted to its party.
Why the detour? We cannot effectively discuss any issue in Nigeria without factoring the sentimental inclinations of the issue. In the present Nigeria, most citizens react to emotional sentiments and not realities. We react to our pre-biases rather than presentable facts of issues. As long as it is the Buhari administration that got the conviction, it is wrong. So, not beginning with Sowore re-arrests, whatever Sowore did in the first place is okay to a section of the populace just because it is against a government they have aversion for; and they would support and create excuses for whatever happen or would still happen.
The government would always be wrong. So, it would be difficult to make attempt at taking a neutral position and objectively scrutinize the entire ordeal; so many would feel offended but for posterity, we must do what must be done. According to Booker T Washington, "A lie doesn't become truth, wrong doesn't become right and evil doesn't become good just because it's accepted by a majority"
Sowore story is a two part story; the earlier part began with Sowore as a presumed secret-cult member turned UNILAG students union president and then an online publisher who specialized in selective "gorilla journalism"; one that chose story that are more sellable and not the one that positively better the societal interests; one that improve his political relevancies and not the wellbeing of Nigerians. We listened to the outburst of a lady who berated Mr. Sowore for ignoring the plights of dying children and raped teenagers even when he was given recorded video of the maladies because he wasn't going to get richer or more popular taking up the fight or because he was probably offered better offer to drop the investigation elsewhere.
The second part of the story began with Sowore having his name on the ballot paper during the 2019 presidential election. Perhaps one of the youngest contestant for the exalted office; he came on the back of the not-to-young-to-run act signed into law by President Buhari but unfortunately came a remotely far distant fourth with a mere 33,953 votes to the winner and incumbent president. Just two months into the inauguration of the new administration, Mr. Sowore had reasons enough to conclude that the fresh administration is already a failure and must be forced out.
Having contested the election, he had all the legal opening to contest the result in court but he didn't, rather he vocally planned an illegal process to oust the president; termed the "#RevolutionNow". He stated unequivocally, his desire to effect a government change and out right dismemberment of certain agencies including the DSS. While drumming support for his planned outing, he travelled to the UK to meet Nnamdi Kanu, a fugitive from the Nigeria law , and he boldly said he had perfected plan with Kanu to achieve his goal. That action alone was sufficient base for arresting him; no nation in the world including the "Powerful " USA and UK would let that pass. Days ago, a Federal Judge in the USA refused to set bond for 31 years old Friedrich Ishola, for threatening President Donald Trump via social media and that was legally admissible; but it happened in Nigeria, it is wrong.
Sowore planned outing had a semblance of a coup d'état and all he needed to do to save himself was rephrasing his intention but instead he said "I am not talking of protest. I'm embarking on revolution. 85% of Nigerians are in support. Don't tell me about the legal implications or what a judge will say. I don't care. We must bundle Buhari out of that place…the DSS shall seize to exist….." that was on July 25, 2019. Unlike his few but exaggerated followers, he knew there are consequences for his actions. He knew, his lawyers knew but chose not to prevent the obvious.
I don't know what Falana was up to; he understand the process, he knew the legal implications and yet chose the path of allowing his client to go for popularity chase at the expense of what he is currently undergoing. I know this is all about 2023; surfing up popularity perhaps to qualify at the least for a candidacy of certain political position, if not taken all the way to pick juicy political ticket on the platform of a major political party. Paving a way for him but deceiving his followers, the haters of the incumbent president. The Sowore story is bigger than we all know. It is a script playing out and those playing the drum at the background are the real deal. There is more beyond what is seen.
The DSS made a very serious error charging Sowore with treasonable felony and thus given him opportunity of a bail condition; no nation in the world would play with and allow such an attack on its constituted system go with flimsy game plays. I read of someone saying the government could have overlook Sowore and his #RevolutionNow outing; that he doesn't have the followership and clout to pull of what he claimed and I am still amazed; during a period when he El-zalzalky movement is becoming uncontrollable and leading to death of innocents; at a time when the IPOB were making threats from all angles that recently led to the death of a police ACP and DPO in Anambra State and he, Sowore just met with leaders and representatives of all these Proscribed Organisations, not to talk of politicians who had not in the recent time hide their readiness to allow the country boil; we should ignore him. In what part of the world do they do that? Sowore made it clear from the onset he wanted to forcefully remove a constitutionally elected president and do not care about what the consequences are; that is treason and it is not bailable. The DSS must have to correct its error in the charges against Sowore.
Picked up by the DSS, the drama and counter drama of bail application and his release unfold. Mr. Sowore was granted bail with specified surety commitments and conditions; the bail commitments were met, remaining for his surety to pick him up by signing necessary documents but no one showed up. Falana wanted Sowore to be released on his own merit, so that when he run to evade his continued trial, the surety would declare the DSS did not release him to them.
Well finally, he was released and expected to return to the court the following day for the continuation of his case. The next season of the Sowore drama began the moment he was released; in defiance of his bail conditions, the first thing he did was granting an interview with some Journalists and when he came out was to go into a meeting at Transcorp Hilton ( that was the day he was released); he was caught on camera still talking about revolution. Then he came to court as required and the current Sowore episode began.
The summary of what happened after is that he was re-arrested on the different charges but there are questions that must be answered; does the DSS have the legal right to rearrests him after releasing him less that 24 hour earlier? Section 43(2) of the Administration of Criminal Justice Act, 2015 provides and I quote: "A warrant of arrest may be executed by any police officer at any time and in any place within other than the actual court room in which the court is sitting" and there are a number of precedence for that; a judge of the Supreme Court standing trial and who was just granted bail but was rearrested outside the court room in Lagos not too long ago and all those online activists went to sleep.
Was Mr. Sowore rearrested inside the court room? I read and cross-analysed the reports of a couple of eye witnesses to the whole drama of Sowore re-arrest (some of these witnesses are lawyers, clergy and observers who were representing their organization interest in the court); and I came up with a summary of what transpired.
Sowore case was heard and adjourned till February 11, 2020 and the court got busy with a fresh case called. Sowore came out of the court room and it became clear to him and his lawyers that he was to be re-arrested on fresh charges; most definitely pre-planned, he ran back into the court room creating scene with "leave me alone, they want to kill me (rhetoric)" his own surrogates dragged him back into the court room, disrupted the ongoing session and force the judge to excused herself. While inside, the video on circulation was quickly made then he came outside and surrendered himself for arrest led by his lawyer (Falana).
When we understudy antecedents of dramas coming from the camp of desperate Nigerian politicians most especially, those who felt they must permanently have access to power but had been booted out, it wouldn't be a major task disregarding the recent and current Hollywood display by Sowore crew. They had their tutorage from the master and grandmaster of public deceptions.
We cannot forget too soon Dino Melaye many acts to deceive the public into supporting him in recent past; the shameless brigandage on the road, in the chamber, on the tree and even on wheel chairs this has also been the practice of so many politicians standing trials
Fayose film clip of severe pain is still in much circulation; the broken neck and the tear gas scenes. Saraki once cried the police were after him to arrest him in the midst of his massive security when nothing of such was happening. In the last one month, we have seen them coming to court in stretchers and wheel chairs of several design; all for two reasons, one, to deceive both the court and the Nigeria people and secondly to derail the course of justice
Before taking my final position on the matter, I opted to know if the DSS legally informed Mr. Sowore and his legal team of their intention to invite or re-arrest Sowore before the incidence and I discovered that his lead lawyer, Falana was duly informed after the court case and outside the court room (this much Falana admitted to in his released statement later).
Then I ask where the online video originated from? How could the DSS team be outside while one of them is been mauled inside? That doesn't make professional sense. At this point, I will employ everyone who is not blinded by emotional sentiment to re-watch the video and it will immediately become that there was no DSS officer in the video; the so called DSS officer in the video is actually one of Sowore men. The video was definitely staged; juxtaposing the videos and pictures clearly show that the same crowd cheering Sowore earlier in the court room is the same that acted the false arrest.
In a viral picture and even in that same video, we see some lawyers trying to cautioned Sowore and stop him from addressing the press while others were just watching in surprise the whole drama. It is again alarming the insinuation of his lawyer, Mr. Falana, that DSS agents were dressed as lawyers to carry out the act when we did not see any lawyer getting involved beyond watching the scene as we all saw in the circulating video. We must remember that this is not a first for Sowore; his students' unionism days in UNILAG and the poisoning claim drama readily come to mind and his very many other atrocities including his extortion and blackmail of Lekan Fatodu leading to his arrest then.
So I asked, was the entire episode pre-planned? Yes it was and a near successful blackmail it was. My next question is to what end? I cannot say for sure but it is either Sowore, Falana and the real people behind the scene were bent on forcing the government to take decisions that will force the masses to the street or wanted to reenact the Nnamdi Kanu escape strategy, create a scene and smuggle him out and claimed later he must have been abducted by the government.
How culpable in the entire game is Falana; after the El-zalzalky is dying episode that came out a lie, but I don't want to believe Falana was in the full know. He couldn't risk his many years of achievements for a game he knows is bound to boomerang. I assumed Mr. Falana is being played and used by people politically smarter than he is. I am sure he is equally digesting the veracity of those video as well as the implications on himself.
More worrisome are the statement credited to individuals like former Vice President Atiku Abubakar on the entire issue. These are men who having been in government ought to understand the realities of the Sowore saga but chose to take the side of unfolding lies and deception by the enemies of the state. These are men who in certain past watch one of their own; Fayose slapped a sitting Judge right in the court room and they did not raise a voice. The same individuals are quick to heat up the country even when they know the story is wrong. So much I am tempted to conclude on who are the ones drumming for Sowore ?
This is a time, we must really wake up as a nation to the scheming of elements within our political space who are hell bent of making the nation ungovernable; individuals who are ready to go all the way to incite the citizens against the government. Whatever Sowore is doing is part of a grand plan by these people. Whatever angle it comes from and the actors behind it, the symptoms' are the same; we are currently seeing Fani Fakayode creating a diversion to heat up the polity ahead of his possible conviction.
Over the last few years under the current government, we have had a list of 22 ex-governors from states across the country and cutting across all religion and ethnic affiliation under investigations and trials, yet Fani kayode instead of answering to his case is already doing what they know how to do best. Fani Fakayode said the administration anti-corruption fight is aimed at only Christians and that the entire individual on trial and already convicted are Christians. But how does he explain the coincidences of all the ex-governors currently in jail being APC members; how does he explain Dasuki elder sister being Mallam Mamman Daura wife and El-zalzalky and wife, a Muslim Cleric in custody
The question ought to have being, did Fani Fakayode committed the offence he is being tried for? But in our clime, we hardly bother about that facts, we listen to these self-made public speakers and commercial activists for directions to our responses to national issues.
God Bless The Federal Republic Of Nigeria!