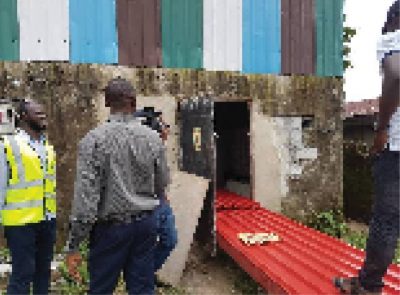 Following series of consumer complaints by residents of the Federal Capital Territory (FCT), the Standards Organization of Nigeria (SON), upon confirmatory market surveillance activities carried out by the agency's officials, sealed up four warehouses in Idu market out of a total of seven examined for dealing in substandard aluminium roofing sheets.
According to the SON FCT Coordinator, Mr. Gambo Dimka who led the standards enforcement activity, the raid was targeted at warehouses and shops suspected to be in possession of roofing sheets whose thickness diameters were lower than 0.4mm specified in the Nigerian Industrial Standard (NIS 488:2010) for profiled aluminum roofing sheets for roofing.
Mr. Dimka stated that about 59coils of aluminium roofing sheets of between 0.26mm and 0.3mm gauges were found in the shut warehouses, stressing that the exercise was aimed at ensuring compliance with the Nigeria Industrial Standard for the product and mitigating the economic losses occasioned by the patronage and use of substandard aluminium roofing sheets by unsuspecting consumers within the FCT.
The SON FCT Coordinator, explained that the agency has been reinvigorated by the SON Act of 2015 to remove all non- conforming products from the nation's markets, as part of measures to enhance capacity utilization of Nigeria's manufacturing industry and provide a level playing field for conforming products.
Mr. Dimka said further that the SON Act mandates the agency to ensure that only quality materials are traded within the Nigerian market space and gives SON the power to prosecute and impose fines on anyone found dealing in substandard products, seize such products, rectify where possible and destroy if found to be life-endangering after due laboratory tests and analysis.
The SON FCT Coordinator commended those found dealing in only conforming aluminium roofing sheets within the Idu Market, urging them to continue to remain quality ambassadors.
He enjoined residents of the FCT to always demand for quality products and endeavour to complain to SON and other regulatory agencies for redress, whenever they do not get value for their hard-earned money from purchases.
Speaking to newsmen after the exercise, the Chairman of the Idu market union, Mr. Pascal N. Innocent expressed support for the standard compliance activity by SON. He pleaded for collaboration in putting the suspected substandard aluminium roofing sheets to other uses and urged SON to organize more sensitization forums for the traders.
The SON FCT Coordinator estimated the value of the suspected substandard aluminium roofing sheets at about N30million and emphasized that the products will not be allowed to be used as roofing sheets as they will not give value for money. "They will be subjected to further tests and deployed to other appropriate uses where possible, in collaboration with the market leaders", he said.
"Those found to be irredeemable will however be destroyed in line with the provisions of the SON Act", said Mr. Dimka.