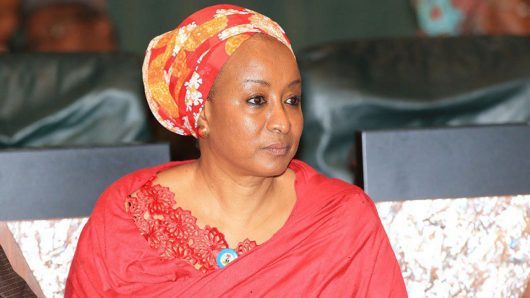 From Uche Nnorom Makurdi
Special Adviser to President Muhammadu Buhari on Social Investment Programme, Mrs Miriam Uwais has lamented over diversion of funds meant for the Home Grown School Feeding Programme by the Benue Office of the Programme in the state.
Mrs Uwais who made the lamentation in a chat with journalists after she paid a courtesy visit on Governor Samuel Ortom of Benue state in Government House, regretted that figure of beneficiaries was over bloated by the sacked focal person Terhide Utaan.
"We also have over 900,000 cooks in Benue, but we are trying to reorganise it because we discovered a lot of anomalies in terms over bloated number of pupils and cooks.
"The challenge in the beginning is that the number was exaggerated, because monies were being diverted, I have to be honest with you. You understand? So we have cleaned up to make sure that only the cooks that are feeding benefit.
The Special Adviser however, said the current State Focal Person under the instruction of the state governor has agreed to organise the process, get women that actually will cook and feed the children.
"The new Focal Person Mr Damsa, under the instruction of the state governor has agreed to reorganise the process, get us women that will actually cook and feed these children, to ensure that the children have good nutrition. You know the essence of the programme is to get more children in school, to get them better fed, that their nutrition is boosted and the cook will benefit, the mother and father who are common farmers in the community will also benefit.
Governor Samuel Ortom, disclosed that Benue has benefited about Six Billion Naira (N6,000,000,000), since the take off of the Federal Government Social investment Programme in the state.
He noted that the programme has impacted positively on the lives of many people in the state.
Ortom also said the programme has improved the condition of living of many families, encouraged children to go to school, thereby increasing the number of enrollment to schools.
The governor assured that the State Government will continue to support the programme for the overall benefit of the people.
"The social investment Programme since its inception in the state has impacted positively on many lives.
"As a state, we will continue to ensure that we support the programme for the benefit of the people.
"We look at it as investment into the future of our children. "The challenge we had encountered previously in the programme in the state has been taken care of and what happened will no longer repeat itself.
"With the new focal person person in charge of the programme Terris Damsa we insist that guideline of operation must be strictly followed and the right thing be done," he said.