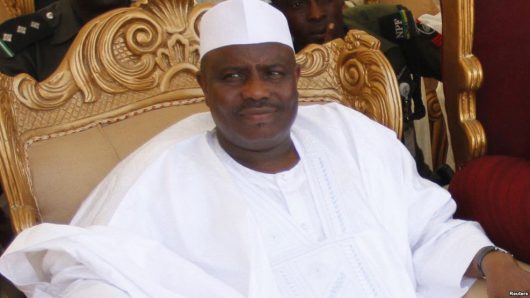 From Raji Bello, Sokoto
Six northern Governors on Thursday visited Sokoto state Governor, Aminu Waziri Tambuwal, to condole him over the killing of some villagers by suspected armed bandits.
The governors included that of Zamfara, Borno, Niger, Jigawa, Kastina and Adamawa states.
Chairman, Nigeria Governors Forum, Alhaji AbdulAzeez Abubakar Yari, who spoke on behalf of others, described the killing as regrettable.
He worried that the bandits are now shifting their killing activities to Sokoto state, which he described as peaceful state of the federation.
According to him, "We came to Sokoto to condole with our colleague governor and the good people of the state for the lost. We are concerned about this ugly incident. About eleven of us planned to come over for this condolence but some couldn't make it.
"This incident is regrettable and we know how painful it can be losing loved ones and relatives. But we pray that God will console them and protect our country.
"The governor called on the citizens to be willing to offer information to security agencies about strange people around saying, "if we come together we can achieve a lot."
"From my experience, those that perpetrated these attacks are human being like us and they also live within us. We are so worried that they now shifting attention to Sokoto state which hitherto is known as most peaceful state of the federation." Yari explained.
He also urged for collaboration among the security agencies in other to tackle the menace of killing across the country before it is too late.
Responding, Governor Tambuwal thanked the visiting governors for taken their time to visit the state, describing the attack as first of its kind in the state.
He disclosed that the incident which happened at Tabanni village in Rabbah Local Government Area of the state claimed no fewer than thirty-nine lives.
"We buried thirty-two people yesterday but when we are leaving the area, they brought additional seven bodies with one severely damaged which brought the total number of deads to thirty-nine.