Simon rues World Cup miss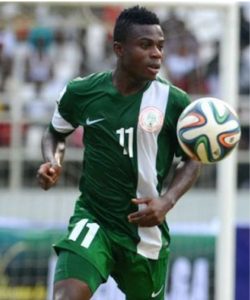 …Super Eagles will miss him – Babangida
Injured Super Eagles attacker, Moses Simon who was forced to drop out of the Super Eagles squad that will represent Nigeria at the forth coming FIFA World Cup in Russia has lamented his inability to represent his mother land at the global showpiece.
Speaking with www.bsnsports.com.ng after leaving the Super Eagles camp in London, Moses said it pained him so much that he has been forced out of the World Cup by the unfortunate injury and regrets that despite all the faith placed on him by the coach, Gernort Rohr he would not be able to repay him.
Moses expressed total gratitude to Mr Rohr for believing in him and given him enough time to ascertain the extent of his injury even when there were pressures from several quarters to drop him.
"I am really grateful to the coach for believing in me. He stood by me even when there was pressure from some quarters to drop me because of the injury; he said he has to be totally sure of the state of the injury before he would drop me. It takes a coach with a good heart to do that," he said.
The Belgium-based attacker expressed confidence in the ability of the German tactician to lead the team to victory at the mundial.
"I have been with the team, I have worked with them. What I can say is that the coach will lead the team to perform well at the World Cup. The Super Eagles will surprise people at that World Cup, I can tell you confidently.
Meanwhile, former Super Eagles winger, Tijani Babaginda expressed disappointment in the injury that forced Moses Simon out of the World Cup, saying the team and even Nigerians would greatly miss his work rate.
"When I heard the news that he has been dropped because of the injury, I was really sad because I know what Simon can bring into a team.
"Well, that is not the end of his career because he is still young and there are other competitions in the future for him to participate and contribute his quota. But, let me say the Super Eagles will greatly miss him in Russia."
On the chances of the Super Eagles doing well at the world cup even without the fleet footed Moses, Babaginda noted that though he would have added enough power to the attack, the team still posses enough quality to do well at the world cup.
"I believe in the quality of players in the team. Something tells me that they would go far. The friendly matches they are playing will certainly help them. It will allow the coaches to know which areas to give more attention to before the World Cup begins," Babaginda said.