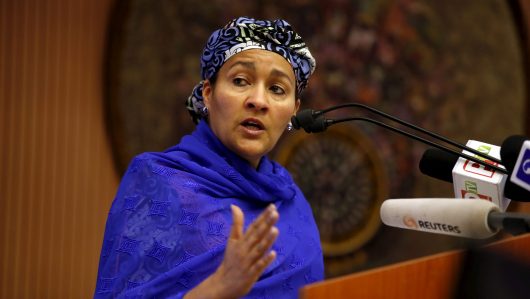 By Ese Awhotu with agency report
The shrinking Lake Chad is fuelling Boko Haram crisis, UN Deputy Secretary-General Amina Mohammed has alerted.
She said that, the BokoHaram terrorism in Northeast Nigeria was largely due to the drying up of the once thriving Lake Chad, which provided millions with livelihood.
Ms Mohammed stated this in Stockholm in her remarks to the opening plenary of 2018 World Water Week with theme: 'Water, Ecosystems and Human Development, at the Heart of the Global Agendas'.
According to a News Agency of Nigeria, NAN report, the deputy UN scribe recounted her experience as Minister of Environment of Nigeria and Chair of Water Supply and Sanitation Collaborative Council.
According to her, she saw first-hand the disastrous human consequences of badly-managed water resources and ecosystems. She noted the importance of protecting the environment and conserving resources for sustainable development.
She said: "I was raised in North-eastern Nigeria, where lack of access to clean water and sanitation is a major challenge.
"Lake Chad was once the chief source of economic activity for this region, providing food and economic opportunities to nearly 30 million people.
"Today, the lake has shrunk by 90 per cent. Some predict it could disappear entirely by the end of this century.
"This drying of the lake and the advance of desertification in the north has disrupted everything, from trade routes to agriculture and fishing.
"It has impacted food security and health, increasing the risk of waterborne diseases. It is causing poverty by taking away farmers' livelihoods. And it has a gender dimension, contributing to low levels of school enrolment among girls.
"Taken together, all these factors have contributed to increased insecurity in a region already affected by violent extremism.
"I believe the rise of Boko Haram is inextricably linked with poor water management. And the solution to conflict in the region must include equitable ways of using water resources".
According to her, Lake Chad is just one example of the vital links between water management and all the Sustainable Development Goals.
Ms Mohammed said around the world, growing demands for water, coupled with poor water governance, had increased water stress and were having a broad and negative impact on economies and societies.
She regretted that more than 340,000 children under five years die every year from diarrhoeal diseases due to poor sanitation, poor hygiene, or unsafe drinking water – almost 1000 children per day.
NAN reports that the UN deputy chief added that 40 per cent of people around the world were affected by water scarcity, while some 844 million people lacked basic water services and over two billion people were forced to drink unsafe water.
Ms Mohammed lamented that women and girls suffered disproportionately when water and sanitation were lacking adding, their health is affected, and they may be unable to work or to attend school when they are menstruating.
She stressed: "All these problems are exacerbated by climate change.
Indeed, water is the primary medium through which climate change impacts people, ecosystems and economies.
"There is good news. There is sufficient fresh water in the planet to secure clean and accessible water for all.
"The current challenges have to do more with our failure to deliver the right policies and incentives".
It's estimated that some 40 million people from Nigeria, Cameroon, Chad, Niger and Central African Republic rely on the lake for fresh water and other resources. But desertification and overuse have led to its' shrinking.
Experts have proposed evaporation suppression as an alternative technique of restoring Lake Chad to save it from extinction.
President Muhammadu Buhari in May this year announced that Nigeria had initiated measures to mitigate the negative effects of the shrinking Lake Chad on the people of the area.
The president, who was represented by the Borno Governor, Alhaji Kashim Shettima, stated this in Maiduguri while declaring open the First Lake Chad Basin Governors' Forum.
He, however, sought the support of the international community in addressing effects of climate change.
He said Nigeria was working diligently to address the plight of the people living on the Nigeria's side of the lake.
Buhari, who noted that the Lake Chad issues must be treated with the required urgency, called on all stakeholders to share the mission of rescuing the Lake Chad Basin from extinction.
According to the president, there was the need to find workable solutions in resuscitating the lake to the benefit of all member-countries in the region. He added that the people living in the basin depended on the lake for agriculture, fisheries and livestock for their economic well-being.
This Lake Chad is one of the oldest Lakes in Africa, shared by Cameroon, the Central African Republic, Chad, Niger and Nigeria.