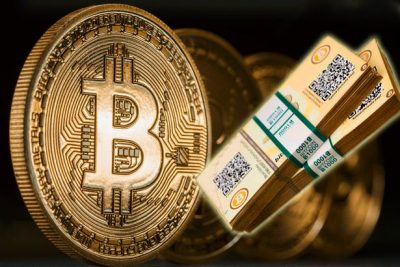 By Christiana Ekpa
Senate yesterday asked the Central Bank of Nigeria (CBN) and other stakeholders to make an unequivocal statement across all the news platforms in all dialects on the dangers of Bit-coin as a store of value in Nigeria.
It also called on the National Orientation Agency (NOA) to spread the news against all forms of wonder banks and Ponzi schemes operating in Nigeria.
It also asked members of the Senate Committee on Banking and other Financial Institutions to investigate the viability of Bit-coin as a form of investment and report to the Senate within two weeks.
These resolutions followed Senate's adoption of a motion sponsored by Sen. Benjamin Uwajumogu (APC-Imo).
He noted the alarming rate at which Bit-coin, a form of digital currency was being proliferated in Nigeria as one of the best form of investment.
He said: "This crypto-currcncy is openly marketed across the country on the local television and radio stations, mostly to Nigerians not aware of the consequences.Nigerians are freely advised, and even persuaded to invest in this crypto-currency, as it promises quick returns, in certain instances, a triple or quadruple of the invested sum as profit within days. Google, quoted; one (1) Bit coin to be the equivalent of N5, 706, 713.20.
"JP Morgan, the world renowned investment bank, in a conference held in New York City, USA, and reported in the US Guardian, noted that the digital currency (bit-coin) was only fit for drug dealers and would eventually blow up."
The lawmaker recalled that the MMM bubble of 2016, left millions of Nigerian families broken, devastated and many business men lost all their capital in the phony scheme.
Contributing Sen. Dino Melaye said it was the responsibility of government to protect its citizens from been defrauded by the scheme.
He urged NOA to enlighten Nigerians on the need to be careful and not to rush into such scams.
In his remarks, the Deputy President of the Senate Mr Ike Ekweremadu also underscored the importance of NAO on enlightening the citizens.