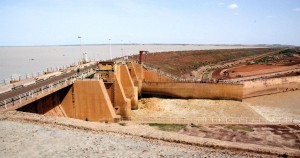 Governor of Sokoto state, Aminu Waziri Tambuwal, has raised an alarm over the low water level in Goronyo dam. He, accompanied by top officials of his administration, was at the dam over the weekend. He said it had shrunk by over 90 percent. Built to hold one billion cubic meters of water, the dam's reservoir had only 100 million cubic meters of water, the governor said.
The cons
equence is that there is no water to go round for household use, dry season farming and livestock breeding. "This has resulted in inadequate supply of water to our water board, and in effect, we had to resort to rationing water to the people", Tambuwal lamented. "Our farmers are suffering because output from this year's dry season will invariably be affected". The governor's concern was shared by Engr. Buhari Bature,managing director of Sokoto Rima River Basin Development Authority. He said the drop in the water level was the lowest for over 25 years. He gave two reasons: climate change that resulted in decreased rainfall in 2017 and failure to "desilt" the dam.
We believe the governor has raised the alarm at the right time and directed his appeal for help to the right quarters. "We are urging all stakeholders, especially the Federal Government, to take the lead in rescuing this important dam, considering the number of people that rely on its water for domestic use and income", Tambuwal said. We say he raised the alarm at the right time because he did not wait for the dam to dry up, turning into caked, dry earth. And he turned to the FG for help because it owns the dam through the SRBDA.
Given the socio-economic and security implications of a failure to act now rather than later, we at Peoples Daily, add our voice to Tambuwal's SoS. First, the dam is the primary source of water for 4 million people in the two sister states of Sokoto and Kebbi in the northwest. If it dries up, this will dislocate the socio-economic life of the people. Families and livestock will be compelled to move, thereby igniting social tension. We shall see a rise in the herder-farmer violence across the country. Again, lack of water leads to poor personal and communal hygiene.This in turn will cause an explosion in epidemics like cholera that are common during this hot season.
All these disasters waiting to happen, luckily, can be prevented if action is taken promptly to save Goronyo dam. Sokoto state government has done well to alert the right authority to its responsibility. However, there are certain things it can do on its own while waiting for Abuja to act its part. It can immediately launch a campaign appealing to communities not to waste water but conserve it through recycling, Water used for washing can be used to clean toilets and water vegetables. Another campaign should aim at increasing awareness about water-bound epidemics and how to prevent them.