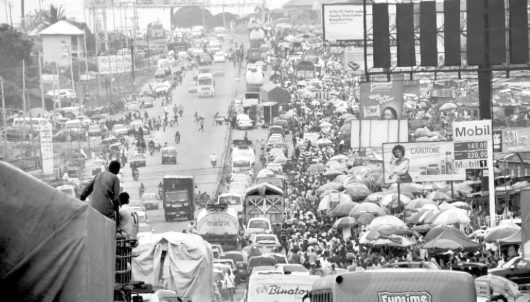 By Stanley Onyekwere
Some traders in Bwari Area Council have called for formulation of measures that would stop collection of revenue by consultants, agents and technical partners other than the relevant authorities of the Council, in order to ensure orderliness in the system.
The traders in their separate interviews, who made this call, alleged that the operators of the old system said it's part of the things that they want the chairman, John Gabaya to put in place before they could give him full support.
One of the traders, Pastor Samuel Ocheja regretted the conduct of the former chairman, Musa Dikko who was using non professional personnels in collecting taxes that was igniting frequent crisis.
"The present council chairman should be bold enough to do the right thing without fear or favour, by doing away with the consultants, agents, contractors or technical partners.
"National Assembly sometimes late in 2015, directed that using of personnel outside the genuine revenue officials should be stopped.
"The practice and the use of contractors for revenue not only make the council's revenue staff jobless but its affect the cordial working relationship between the council and the rent payers," he said.
According to him, it will be unfair for any administration of the council to engage outsiders as taskforce or non – revenue officials in the assessment and collection of taxes and levies across the area.
Ocheja opined that better achievements would be recorded in Bwari under the present administration through concerted efforts from all stakeholders which traders are key players.
Another trader based in Kubwa, Dahiru Abdulaziz, said the present chairman should focus on the use of its revenue officials that will assist meet up with the target of revenue bench mark for year 2020.
According to him, non compliance by the previous administration grossly affected revenue that supposed to accrue to the council throughout the chairman's tenure.
Also, another trader, Madu chukwuma, noted that if the present administration of Bwari Area Council resolve the issues surrounding the tax collection and payment, there will be more coordination and successes.
"It is 6 years now that House of Representatives gave the directives to Abuja councils to stop using outsiders for collection of taxes.
"Some senior officials in the council are still pushing that the consultant and agents should be re- engaged by the present administration, this is for their interest and not the council," he stressed.
He insisted that the traders would pay only legitimate and levies that will be collected by revenue officials which, he said don't harrash them, than engaging of thugs that always insult them.