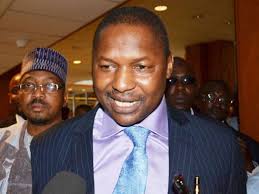 The Attorney-General of the Federation (AGF) and Minister of Justice, Abubakar Malami, Sunday, departed Nigeria to attend a three-day meeting of the United States-Nigeria Bi-national Commission in Washington DC. He is at the head of a delegation that includes the Minister of Industry, Trade and Investment Otunba Adeniyi Adebayo, Minister of Defence, Maj.-Gen. Bashir Magashi, Minister of Foreign Affairs, Geoffrey Onyeama, National Security Adviser, Maj.-Gen. Babagana Monguno as well as Minister of Humanitarian Affairs, Disaster Management and Social Development; Sadiya Umar Faruk
Malami's Special Assistant on Media and Public Relations, Dr. Umar Gwandu, said Sunday in Abuja that the minister was expected to sign a tripartite agreement involving Nigeria, the Island of New Jersey and the United States government. It will enable the repatriation of 321m US dollars in looted assets, lodged overseas. These include funds allegedly stolen by the late head of state, Gen. Sani Abacha between 1993 and 1998. Nigeria is also working on repatriating €6,863,977.12 allegedly looted by a former governor of Delta State, Chief James Ibori, from Europe.
Gwandu made it clear that the meeting was "an annual event between Nigeria and US, aimed at reviewing bilateral relations and taking necessary steps to enhance mutual interest in all diplomatic areas between the two countries. The meeting is not an ad hoc event for addressing impromptu concerns, but a friendly binational meeting that holds annually devoid of intervening concerns or relating to the internal affairs of the participating states."
Speaking last week in Abuja after a meeting of the Federal Executive Council, Malami said the repatriated funds would be used to complete "major ongoing road projects, including the Lagos-Ibadan Expressway, Abuja-Kano Road and the Second Niger Bridge." He said a part of the Abacha loot, amounting to another $321 million, has been "completely repatriated."
We commend the Buhari government for going after funds stolen from Nigeria and hidden in foreign lands. We recall that Buhari, after taking office in 2015, vowed to bring back every kobo stolen from the nation's treasury and taken abroad. To that effect, he signed repatriation treaties with a number of European and Arab governments that agreed yield up funds stolen from the Nigerian government. These agreements have resulted in several fund recoveries.
Nigerians are generally agreed that Buhari is doing a wonderful job of the loot recovery. However, many are sure that the returned funds are being used judiciously, more so as Parliament is kept out of the picture. To help the government's probity and accountability case, it should put the funds in the annual budget to be appropriated by the National Assembly. That way lawmakers, who are elected representatives of the people, can oversight the projects to which the money has been deployed.