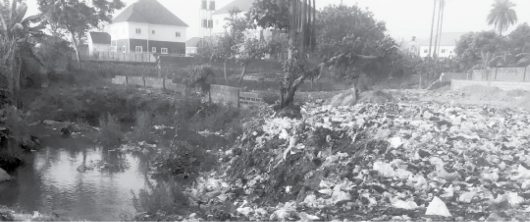 By Stanley Onyekwere
Residents in Chikeakore settlement along Angwa'n Hausa community in Kubwa, Abuja have called for urgent intervention of the Federal Capital Territory Administration (FCTA), to end the swelling refuse dumpsite, which portends mortal dangers in the area.
A visit to the community revealed that huge garbage accumulated in the area has contaminated not just the air but also water there, which portends mortal danger to the health of residents in the area.
A cross section of residents in separate interviews in the area, who bitterly complained that if nothing is done now before the full rainy season, the area will not only become an eyesore to behold, but hazardous to them.
They however, made a passionate appeal to the government at various levels to urgently come to their aide, before the situation gets out of hand.
They also called on non-governmental organizations to help provide wastes containers not just there area but other areas that have cases like theirs.
According to a resident in the area, Nneka Ibe, the situation daily subjects people in the area to nightmarish experiences especially during the rainy season.
She explains: "During rainy season, smell from the dump site increases and because the dump area is close to the road, the garbage are scattered all over the road seeing that the road itself is bad makes the sight irritating.
"Garbage smells are generated by growth of bacteria, because of obvious high concentration of bacteria and bugs in this area inhaling air can be harmful to the public health.
"As a result, it can cause ailments like; respiratory infection, allergies, induced nausea and vomiting. Also, its negative effect has a bearing on our physical, social and aesthetic outlook of the nation's capital city."
Another resident in Angwa'n Hausa, Ihe Precious said whenever she is passing through the area, she is forced to holding her breathe, so as not to inhale the terrible smell oozing from there.
She therefore made a passionate appeal to the Abuja Environmental Protection Board (AEPB) and other relevant environmental authorities within the Federal Capital Territory (FCT) to quickly fix the problem, by making available roll-roll bins for dumpsites were wastes will be disposed and evacuated regularly to maintain a cleaner and greener environment.