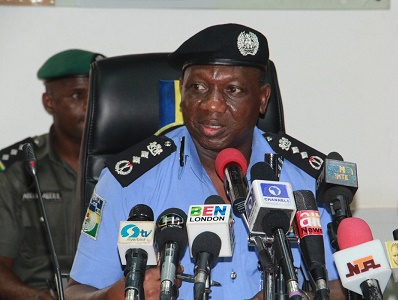 …Want FG to declare Auchi ecological disaster area
By Christiana Ekpa and Umar Muhammed Puma
The House of Representatives yesterday House asked the Inspection General of Police, IGP, Ibrahim Idris to deploy personnel to sixteen communities in Adamawa State where there had been attacks that consumed fifteen lives and destroyed properties worth millions of Naira.
The House also urged the Federal Government to declare Auchi, Etsako Federal Constituency, Edo State an ecological disaster area.
The House also mandated its Committee on Niger-Delta Development Commission (NDDC) to determine the cause of abandonment of Sampou-Elemebiri-Utuechi-Ndoni-Ase-Azaga-Ogu-Ipele-Onitsha road project.
The resolutions followed two different motions sponsored by Hon. Johnson Ewakhide Oghuma from Edo State and Hon. Hon. Uchechuku Nnam-Obi from Rivers State at Tuesday plenary.
Moving his motion, Hon. Oghma recalled a recent incident of flooding and gully erosion on Igbe which he said is a major commercial center of Auchi town.
According to him, the natural disaster affected the people greatly.
He said: "The House notes the catastrophic disaster in some parts of Auchi, Etsako Federal Constituency; "Also notes that the areas greatly affected by flooding and gully erosion include the Igbe Road axis, which is a major commercial center of Auchi town and on the south side of Idani-race community also in Auchi, to mention a few;
"Worried that the menace has already started taking its toll on the municipal with lives and houses already affected;
"Also worried that the continuous negligence will lead to a more catastrophic dilemma which may lead to the death of many lives and the destruction of property;
"Concerned that the 2018 budget allocation to address some of this humanitarian crisis may not be enough compared to the ecological situation on ground and magnitude of the impending danger".
Adopting in the motion, the House also called the federal government to make additional funds available from the Ecological Fund to "give room for effective control and management of the catastrophe."
It also urged the National Emergency Management Agency (NEMA) to provide relief materials to the affected persons just as it also mandated the Committees on Environment and Habitat, Water Resources and Legislative Compliance to ensure compliance and report back within 8 weeksfor further legislative action.
The House made the call via a motion brought to it by Hon. Abdurazak Namdas, its spokesperson.
Namdas had told the House that "sixteen communities in the Southern Zone of Adamawa have been involved in reprisal attacks leading to loss of lives and property worth millions of Naira".
According to him, the communities were Dakasun, Bukurehi, Tugga, Wuro-Galadinma, Kaurame, Bakole, Ubaka, Dukule, Gengle, Saban Kasuwa, Bidda, Dundere, Namarde, Lanyara Gurin, Mayo-Lope, Kiri Demsa and Yelwa.