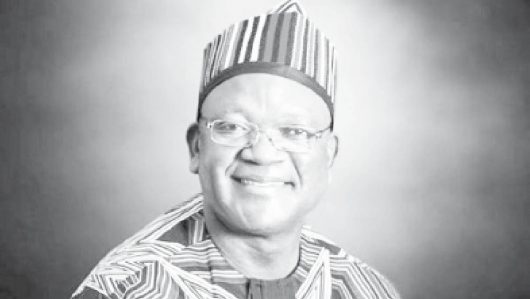 By Uche Nnorom, Makurdi
The entire world has come to realize the inevitability and pure substance of internally generated revenue in the day to day running of governments.
It is equally a statement of fact that a well strategized IGR, especially when plainly boosted will go a long way in serving as a nerve centre of the social contract, to make government more viable, responsible and additionally, responsive to the needs of the people.
A properly boosted IGR will also serve as a tool for economic development; especially to help in planning of savings investment and a powerful fiscal weapon to plan and direct the economy.
Benue state, tagged as an agrarian state is also more of a civil servants state where citizens depend mostly on salaries of civil servants.
Without companies or cottage industries, the state has suffered perpetually from lack of development.
More often, the state do depend solely on the subvention from the federal government to even pay salaries, a development that has indeed caused the state such a terrible set back as it became obvious, especially during the Samuel Ortom's administration that government cannot afford to meet up its expenditures.
Worrisome is that, many questions were asked on what is happening with the state's IGR? Whether it was too meager to be use for any infrastructural development or whether the handlers lacked the capacity to device ways to improve revenue collections.
However, recently Benue people rose in jubilant voices following the change of guards at the Benue state Internal Revenue Service (BIRS).
The jubilation was observed mostly amongst the youth of the state, most of who took to the social media to express their approval of Governor Samuel Ortom's decision to bring back Mr. Andrew Ayabam, a former Chairman of the parastatal who served for over four years in the Gabriel Suswam's administration.
Ortom, since he became Governor in 2015 has made very many appointments; however, it has been observed that none has been heralded with the level of reception and enthusiasm as that of Ayabam.
Many who spoke on the development expressed the hope that, perhaps with the reappointment of one whose pedigree and antecedents could be attested to, the Governor is willing to fulfill his campaign promises for his second term.
The Governor had, while campaigning for reelection in 2019 conceded that he failed in his first term. He however assured Benue electorates that if he is given a second chance, he will right the wrongs and prove his critics wrong.
Again, while speaking on an audience participation programme on the state owned Radio Benue, Ortom stated that he was willing to device ways of improving the IGR of the state, assuring further that when that is done, the Benue people will come to appreciate what their tax money is doing.
He stated further that he has adopted the strategy of tying the IGR to projects which he stated will mostly be infrastructural projects.
It would be recalled that when Andrew Ayabam was first appointed BIRS chairman sometime in 2009, in less than three years, BIRS's impacts was widely felt both in the state capital and almost all local governments through building, renovation of primary schools and rehabilitating and or reconstruction of streets.
It was one of the innovations of his leadership in charge of the tax office that infrastructural and human resources development at the agency, without mincing words, rose to its highest ebb, leading to the agency being able to, as the most ICT-compliant organization in the country, dispatch competent and highly trained personnel to man revenue collection in all the local governments, a development that yielded high dividends for the state going by series of drives and operational excellence that were being recorded regularly by the agency.
As the highest staff computer ownership ratio in the state at that time that pays its contract staff the highest wage in Nigeria, BIRS lived up to the expectations of Benue people by consistently maintaining its financial leadership role especially as it was meritoriously, accordingly classed among the biggest state revenue services in Nigeria in terms of massive employment.
From the staff strength of about 2,000, no fewer than 1,600 were young graduates, 45% of them, as the records indicated were female. This shows that a good number of 1,600 youth were taken off the street.
There is no doubt that BIRS under the helmsmanship of Ayabam had set a unique pace, which his successors found very difficult to maintain.
On his return, he has already made it known that he actually met the agency in a serious mess that needed to be fixed immediately.
He lamented a situation where most tax consultants were not tax compliance yet were allowed to do business with the agency for more than 2 years.
One of the first steps he took was to terminate the contract of 55 revenue agencies that owed the agency various sums of unremitted revenue.
Moreover, findings have shown that, on his directives, already, over 15 culprits are in the hands of the law enforcement agencies. They were found at check points around the state extorting sums of monies under the guise of working for and on behalf of BIRS.
He also made a pronouncement that all payments of the agency and her consultants must be done through electronic means. He also banned all payments of revenue into private accounts of individuals.
This and many more policies, he assured he was going to wholly enforce. He explained that when fully complied with, the lamentations about revenue leakages will become a thing of the past.
Though Governor Samuel Ortom has assured on many occasions that he will give his full support and backing to any policy brought by the new tax boss that will utterly boost IGR in the state, it is important to advise that politics should not at anytime push the Governor to derail and forget his assurances and promise.
Ayabam return was overwhelmingly hailed based on his past record in the office. Benue people are keenly and eagerly watching to see their tax money work as promised by the Governor.