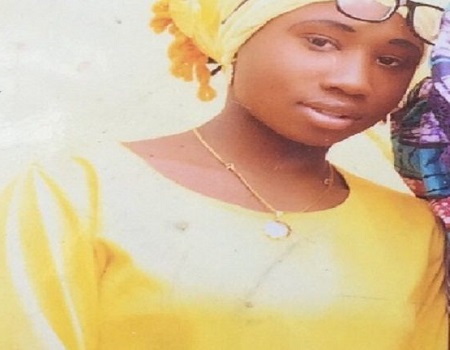 Leah Sharibu, one of the 112 girls Boko Haram, on February 19, 2018 abducted from Government Science and Technical College, Dapchi, Yobe State, marked her 15th birthday anniversary May 14 in captivity. She was not one of the 105 schoolgirls the terrorist group released on March 21. The minister of information and communication, Mr. Lai Mohammed said the government negotiated the release of all the girls. However, it turned out that Boko Haram opted to not let go of Leah because, according to reports, she refused to renounce her faith. Speaking on Leah, in particular, President Muhammadu Buhari said the government would do everything in its power to secure the girl's freedom. "The lone Dapchi girl, Leah, will not be abandoned … President Buhari assures the Sharibu family that he will continue to do all he can to ensure that they also have cause to rejoice with their daughter soon," a statement from Garba Shehu, presidential spokesman, had read. That was March 22, 2018.
It has been two months since the President made that pledge, yet there has been no word about Leah's whereabouts. Her parents, expectedly, find the silence disturbing. Knowing that Leah was still in captivity when she should be celebrating her birthday with loved ones is painful. Nathaniel Sharibu, Leah's father, had this to say on his daughter's birthday anniversary: "No delegation has visited the family since the February 19 episode. Not even a telephone call from anybody. Nobody has called me. I must tell you, I had proposed to arrange a befitting birthday party for her and her colleagues in the neighbourhood but now we don't even know her whereabouts." It is clear that he does not believe the government that had promised not to abandon Leah.
Sharibu's concerns are shared by Rev. Daniel Auta, the pastor of Evangelical Church Winning All (ECWA) in Dapchi. He said, "I feel very uncomfortable and unhappy about the continued stay of Leah Sharibu in Boko Haram custody. Government is very slow to bring her back to us here in Dapchi.The way the Federal Government is handling the issue, after President Muhammadu Buhari has pledged not to sleep until the girl and the remaining Chibok girls are released, is not the best way because this girl has spent such a long time in the camp of these terrorists."
We share the sadness of the Sharibus. If they are disappointed that their daughter has not been freed months after her abduction, they should be comforted in the knowledge that the majority of Nigerians, Christian and Muslim alike, stand with them in this trying time. The outpouring of sympathy on social media on the occasion of Leah's birthday anniversary was strong proof of this solidarity. Mr. Sharibu himself testified to this: "Even those whose children were returned are very sad about my daughter's absence. Though we are not of the same religion with them, they are just not happy and they are helping us in prayers too. They are doing their possible best through prayers to lift our burden."
As for the President's promise, we want to assure Leah's parents and relations of some 120 Chibok schoolgirls still in Boko Haram custody that Buhari, a man of integrity, meant his word. He would not have given that commitment if he hadn't meant it. He needs some time to work something good out. Negotiating with elements that have declared themselves to be enemies of the state is not a tea party.