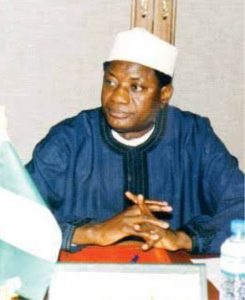 By Muhammed Mubarak Alabi
If you were privileged to work with Malam Wada Maida, from a close range, like I did, you would not have failed to acknowledge three key virtues of his, and these were, humility, piety and decency. He was a humble, decent and deeply religious man, ever attentive to his daily obligatory devotions and regular with other faith related activities.
What really struck me most about him was his ability to combine all these attributes with elegance, for he also belonged to the class of the rich in every sense of the word, and a very prominent member of the nation's literati.
Despite being an elite by virtue of his position and accomplishments in life, Malam Wada was able to shun the paraphernalia of elitism by not acquiring traditional chieftaincy titles, as is common with his peers in the North, and unlike most of his close associates in the rich men's club, he also avoided the temptation of living in opulence, as he kept very moderate life-style.
Malam Wada related with you as someone who is important in your own right, and deserving of respect and dignity. All the years I worked with him, I couldn't recall any moment that Malam Wada acted like the typical aristocrat, who would only dish out instructions for others to obey. As our chief executive officer, CEO, in the FINLAY COMMUNICATIONS LIMITED, he also operated like any other staff who observed all the rules at work with utmost diligence.
Malam Wada didn't set a rule for us, which he also did not observe, and was also gracefully ready to overlook infractions, except where the errant staff had failed to show remorse after repeated warnings. The years I spent with him as a personal assistant (P.A), were like going back to school to re- learn the etiquettes of good behavior and respect for the fellow Human being. Malam Wada respected you, even if you were the gate man, driver or office messenger, and never acted like the boss.
My years with him exposed me to a lot of things about Wada's attitude to life, and his simplicity, and superb managerial expertise. Apart from being a media guru, that was well respected at home and, at the prestigious International Press Institute, IPI, Wada also showed clearly, that he was a shrewd business entrepreneur, locally and internationally.
My training and years of experience as a journalist helped me greatly to quickly study and analyze Malam Wada. He had a wide network of friends in very important circles, and maintained good relationship with them. No matter how close you tried to come to Malam Wada, you would only know what he wanted you to know. Sometimes he made you wonder whether he was not a mafia of some sort, (in a positive sense).
With him, not only did my horizon in journalism training widen, for Malam Wada was an embodiment of good journalism, I learned advertising, learned public relations,, learned aspects of media consultancy, and also learned diplomacy, all of which Wada deployed effectively in the management of his businesses and relationship with people.
I also discovered that Malam Wada possessed a very powerful sense of observation and easily decoded your body language without you noticing it, and was able to easily pre-empt you even before you announced your thought on any issue that was of interest to him.
I remember vividly when I and the late Ujudud sheriff of blessed memory, went to see him over the idea of floating a newspaper, we had a scheduled meeting with Malam Wada in his office at kade street, Wuse 11, to discuss details, and as we sat in Ujudud's car outside the premises of Malam Wada's office, rubbing minds on possible tittles, Malam Wada drove in, and immediately beckoned us to his office.
As soon as we got into Wada's office, he approved our idea of a weekly newspaper, as suggested, but asked for a better title, as he didn't like the one we had in mind. How did he know what we had in mind when we hadn't even suggested it to him yet? Ujudud asked in astonishment!, and Malam Wada simply smiled and said, ''I watched your lips and it seemed you both agreed on THE CURRENT as a title'', we were shell shocked, Wada was spot on! That was weeks before I became his Personal Assistant, PA.
I actually joined him with the aim of mid-whiffing a newspaper project which was to also involve media veterans like Malam Garba Shehu, now a special adviser to the President on Media, Mal Bilya Bala, the late Ibrahim Rufai, the late Ujudud Shariff, and two other persons whose names I cannot recall now, though, that project didn't take off as planned, but Malam Wada, along with two others, eventually established his own, titled Peoples Daoly, with Bilya Bala and the late Ibrahim Rufai on board.
Malam Wada was also a politician, though not the type you would find on campaign grounds, but rather operated from behind the scenes. To my knowledge, Wada provided funding and tremendous logistical support for the Buhari presidential election campaigns in his home state of Katsina in 2015 and 2019. In fact, not many people knew that Malam Wada was the chairman of the media committee of the Buhari Support Organization, BSO, in the Lobito crescent in 2015.
Drawing from his rich professional media background, Malam Wada, ensured that our media committee not only stayed ahead of the ruling Peoples' Democratic Party in media propaganda, but also gave the PDP a run for their money both on the social, and conventional media spaces. The media campaigns were such a huge success that even the PDP admitted to being outrun by our robust media activism under Malam Wada.
However, the events that happened after the 2015 presidential elections were such that made Wada and other notable persons, who contributed to the successful outing of president Buhari at the polls, to retreat to the back stage. He was not the type that believed that he needed any government patronage to move on with his life.
I continued to pester him on his nonparticipation in a government that he labored so hard to put in power, and Wada told me eventually, that he was already as busy as anyone could wish to be, and he thought that was enough reason not to push for any appointment in government, but, I understood him well enough to decode his message.
Malam Wada, to his eternal credit, might not have complained about what many, including yours truly, believed were the cold shoulders that he got from the government for the entire duration of the President Buhari first four years in office, (2015-2019).
His appointment, last year, as Board Chairman of the News Agency of Nigeria, NAN, where he had been the Managing Director, MD, for many years, didn't really excite him, nor his associates, who felt that, he had not been adequately recognized for his contributions to the making of the Buhari presidency.
I was at the Area 1, Juma'at Mosque, to participate in the janazah, (Islamic Funeral Right of Passage) on Malam Wada, and for me, it was indeed, an emotional moment, as I watched his corpse being driven away in a large convoy of cars to his final resting place at the Gudu Cemetry.
My mind quickly raced back to the year that I lost my dear first wife, Hajia Raliat, and Wada, in the company of his known closest associate, Malam Ibrahim Ida, the Dan- Majen Katsina, came calling, to condole with me, I was deeply humbled by that visit.
Malam Mukhtar Abdullahi Wada Maida, may have passed on, but his foot prints in the sands of time will certainly endure, we will miss him as a pathfinder, a star media man, a complete gentleman, a care-giver, and a good Muslim to boot, may Allah grant him Aljannah fiddausi, and take care of those he has left behind, Aameen.
Muhammed Mubarak Alabi
Abuja, 2020.