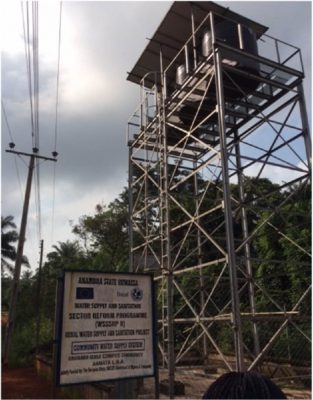 By Tobias Lengnan Dapam
To say that the United Nations Children's Fund (UNICEF) and European Union (EU), Water Sanitation and Hygiene (WASH) project has quenched the thirst of Ezenifite's residents is to say the least. To say that it has given them a new dawn is to put it mildly. To say that it has given the community a new lift and has become the major cause of banters is to state the obvious.
Currently the indigenes of Ezenifite's community in Aguata local government of Anambra state are enjoying portable water, courtesy of UNICEF/EU WASH project.
Residents said the community for years never had portable water, but relied on stream from another community as their only source of water.
This new development according to the residents has solved many problems and given them new hope.
Speaking to our reporter during a tour to the community by health journalists to access the impact of the project, an elder in the community, Eze Ogbonna told our reporter that the project which was the first of its kind in the community saved the people from so many problems.
The visit was part of two-day workshop organized by the Federal Ministry of Information and Culture and UNICEF to widen the horizon of health journalists about WASH.
Ogbonna told Peoples Daily that "Before now, our people go to the stream in the next community to get water. They trek long distance, passing through the thick forest very early every morning. And this thick forest housed many unscrupulous elements who usually attack women especially when they are not in group. We encouraged them to go in groups so as to ensure their safety."
He added that most children's academic performances were also affected by the lack of water in the community. "This is because most of the children accompany their parents to the stream to get water and ended up either going to school late or not going at all. And a situation where a child goes to school today and fails the next day is not healthy for his or her academic. This wonderful gesture will put an end to all these and proffer a better future for our children and our people in general. We are very happy and grateful.
Also speaking, Mrs. Chioma Onwuka said this is the best thing that has happened to the people of the community. "As a mother of three, I know what I used to pass through every day to get water from the stream in the next community before preparing my children to school. It was not an easy task at all.
"My children are all teenagers. I go to the stream with other women around 5am to fetch water before preparing my children for school. Whenever I drop them at school, I will return home and perform other domestic functions before going to the farm and the market where I have a small restaurant. At the restaurant, I will still fetch water to cook and do other things. There is no rest for me from morning to night. This was my daily routine before the water project".
She recalled that she had serious squabble with her husband because of these issues. "My husband does not always understand my pains. He complained about my business because I don't usually have time for him at home. But there is no how I can stop because my children are the major reason why I do so many things.
On the safety of the water, she said the water was being used because the community had no option. "We know that the water was not good but we had no option. At times animals drink the water and people even bathe in it but that is the only water around. What was worrisome was that when it rains, all forms of dirt flood in to the water; but still, people drink the water."
Speaking further on the nature of illnesses as a result of the water, the mother of three said diarrhea was a common ailment among the people. " My children were also affected most times because they drank the water and take some to school. But since this project came, such illnesses associated with water have faded off. Our people now have their own water and the suffering has reduced."
On her part, a widow, who rides 'Okada' to fend for her children said the project has wiped away the tears of many women in the community.
"I think this project has made me the happiest person in this community. Since my husband died, I have been the only one taking care of our two children. Before this project, my major challenge was how to ensure that my children get portable water to drink. But around this community, it was like cracking the rock to get that. Our only hope in the next community was not healthy for drinking. I used to boil the water severally for the children before they drink. Going to the stream to get water was like a complete work for me. At times we will go twice or thrice, before preparing the children for school, then my 'Okada' business which is the only thing I use to eke out a living.
"But now, I don't need to go far to get water. This water is a stone throw from my house and every morning I get water and prepare my children to go to school and begin my business within a very short period of time.
"We no longer travel miles through the thick forest to get water because portable water is now around us.