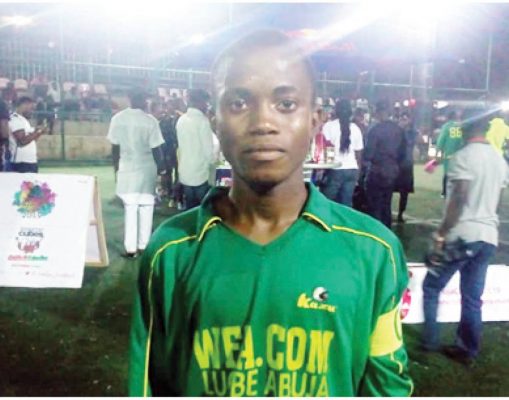 By Amaechi Agbo
His name is Favour and on Sunday, December 1, 2019, he was favoured.
Africa ontology believes that a man's name directly defines his destiny in life. And Favour Akeem, a young football player is one lad that would not forget this belief in a hurry. The name given to children directly defines there destines and that is why in an Africa setting, children are giving names based on the circumstances surrounding their birth.
To every human, one is expect to one day meet his destiny, an encounter that would transform your life. Those in the Christian religion call this 'destiny encounter' but whatever name it assumes, this is an encounter where you forget the past, delete the sufferings and welcome the future with smile and assurance.
To Favour Akeem, playing football is a passion; going to Europe to play for one of the biggest clubs in the world, Chelsea, for instance, is a dream but going to Russia for trial is a reality.
On that day, Favour had come out in the lineup of Krystal Lounges at the 5-aside Abuja Club Cup tournament held at Panorama Park, Wuse Zone 3, Abuja. Perhaps with the desire to lift the trophy which eluded them in the first edition
The one-day tournament which had in attendance prominent men and women including Hon. Ned Nwoko and his wife, Regina as well as representatives of FCT FA chairman and Russian Ambassador to Nigeria, had 7 clubs who took part in the competition.
One of the incentives in the tournament was the promise that the Most Valuable Player, MVP of the tournament will be selected for a trial in Russia top division league.
In their first match, Favour Akeem scored a hat-trick to hand his team a 3-0 win.
And after their second match, with Favour name everywhere even the commentators applauding him, the Russia scout, Moo Mohammed from Dynamic Africa Stars Scouting Agency, announced his MVP of the tournament and he was Favour Akeem.
According the scout, he said that after watching him score two beautiful goals in his first match, he made up his mind that he had found the MVP of the tournament and left almost immediately.
But the hat-trick was just a tip of the iceberg as Favour went out, destroying opponents in the tournament and scored a total of 8 breath-taking goals to emerge the highest goal scorer and MVP of the tournament.
After the tournament, Favour Akeem had the following conversation with our reporter
Feeling after being selected as MVP
I feel very happy and I am thankful to God for giving me the opportunity to participate in the competition. I had to work hard and with determination, I fell very happy for the MVP.
The last time we played in the competition we lost because we had some tactical issues but in this edition, we went back and corrected those issues and the result came out. With determination and hard-work, we won the crown.
Highest goal scorer
It was hard-work because every day I wake up I pray to God. I train and commit some time to improve on my shooting and my goal scoring and it has been helping me a lot each time I play. I have the desperation to score.
Going to Russia for trials
It is a big dream. It is a stepping stone for me and I thank God for this opportunity. It is a level up in my career and I have to work harder to justify the confidence the scout has in me. I want to improve on my games. I have the dream to play in European clubs and thank God for this opportunity.
I also thank 5Stars Football Consultancy, the organisers of the Abuja Club Cup. May God continue to bless them.
I love Chelsea and would love to play for them someday. That is my dream
Dropped from the U-17 national team
I was dropped because I failed MRI test. I was sad but I had to accept it and move on. I accepted it as my fate at that point in time. I have to work hard. Maybe the U-20. I can play for the U-20 and I trust God to be a star there.
Impression on U-17 performance in Brazil World Cup
They tried their best but that was not enough. I believe they have to work hard for the next edition and be determined to win. If you work hard and with great determination, you will win. Hard-work and determination is key. The two must go together.
Football as a career
I think it was my calling or rather my talent. I love playing football. Right from when I was small I started playing football. I watch big teams and players like Eden Hazard. Hazard is my role model in football. I also watch Lukas Modric because I love the way they play. Football is my passion and I want to play it to a higher level. I play football because I have passion for it and I believe that one day it will take me higher.