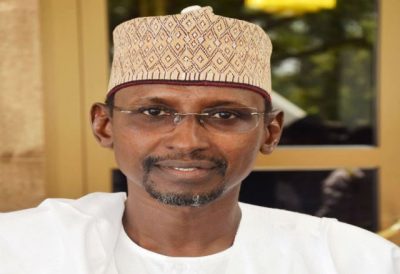 Stories by Stanley Onyekwere
Coordinator, Abuja Metropolitan Management Council (AMMC), Umar Shuaibu, has disclosed advanced plans by the Council through Federal Capital Territory Administration (FCTA) to facilitate the reconstruction of the moribund Berger Junction Park, with a view turn it into a world-class facility for recreational activities.
Dropping this hint while leading members of the Ministerial Joint Taskforce, Abuja Environmental Protection Board (AEPB), Parks and Recreation, and the department of Development Control, among others on tour of the place, Shuaibu said a construction firm, Julius Berger PLC has agreed to immediately revive the place.
Shuaibu recalled that the facility was given to Julius Berger company in 2008 to build a recreation center, which they did, but unlike the Millennium Park, which is usually properly maintained by Salini, the Berger Park was left to rot.
According to him, the area has been taken over by hoodlums and miscreants who peddle drugs and cause trouble to residents around, and also constitute traffic congestion as well as environmental degradation, making the FCT Minister to invite Julius Berger to return to the park and deliver on their corporate social responsibility by not only reviving, but maintaining it.
He explains that: "It is solely for community recreation and not for business. There will be no sale of alcohol or drugs, or whatever that will be inimical to the dictates of the Abuja Master Plan."
Meanwhile, the AMMC boss while addressing drivers and passengers earlier, warned them to restrict their activities to only approved bus stops and motor parks, rather than continue operating indiscriminately parking, stopping and picking passengers on the streets.
Berating the attitude of some residents, he said: "Government provides facilities for our convenience and usage, but unfortunately, we do not use it the way it should. Our people want bus stops located in front of their houses.
"Our people do not like to walk, but walking is good for our health; it makes one fit and smart, and also makes one to live long. Hence forth, passengers, buses and taxi drivers, including private car owners should only use bus stops, many places are provided for them across the city."
The Coordinator also explained that dislodging of the bad elements and illegal activities around the park was to pave way for Julius Berger to return there and resume work and "restore the beauty of the area".
Similarly, AEPB Director, Baba Shehu Lawan, warned that: "we don't want night markets around this area; and we also do not want book sellers here.
"It is only newspaper vendors that are allowed to sell here on the road showders. All the book sellers should be bookshops. We should sanitize our road shoulders and keep them clean and safe at all times."
Not left out, Chairman of commercial drivers at Berger Junction, Mr. Peter Ughamadu while responding on behalf of the drivers promised that he would take care of the illegal activities by his members in the area.