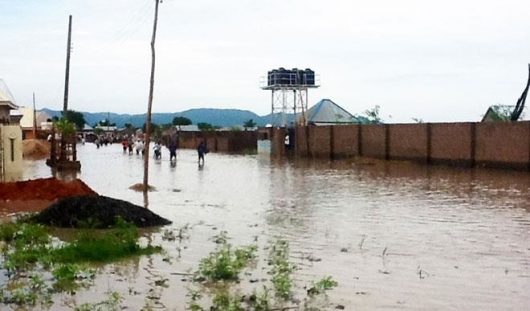 From Umar Dankano Yola
Many houses were submerged in Yola, the Adamawa State capital, following a heavy downpour that lasted over seven hours on Sunday.
The downpour, which started in the early hours of Sunday, trapped most of the residents in their homes, flooded through any available space in flood prone areas.
Findings by our reporter indicated that areas mostly devastated by the flood were: Jambutu, Yolde Pate, Yomkore and Behind PZ stores, throwing residents into pandemonium as the flood waters temporarily displaced them.
Adamu Bakari, a resident of Aso Rock area of Jambutu, displaced from his home appealed for the intervention of the state government, saying his family had to seek shelter at the home of a relatives since his home was submerged in the floods.
Godiya Ishaku, another resident affected by the flood waters, said the outcome of Sunday's heavy pour in Yola resulted in the collapse of their home.
"The heavy pour which lasted for over five hours caused the collapse of our home. Now we are without a shelter. We were lucky the rainfall started in the morning and not at night; otherwise, we don't know what would have happened. Maybe the house could have collapsed over our heads. We have never experienced such a rainfall which lasted for close to six hours."
The state Governor Mohammed Jibrilla Bindow has expressed sympathy to victims of the floods, while calling on residents to adhere to proper environmental regulations and desist from indiscriminate dumping of refuse on water ways.
The state governor, who spoke through his Special Assistant on Media, Macaulay Hunohashi said the administration remains committed to addressing the challenges through its road construction intervention, which it noted took cognizance of the absence of effective drainage network by opening new drainage channels alongside its road construction efforts, to ease flood waters from further wreaking havoc on communities.