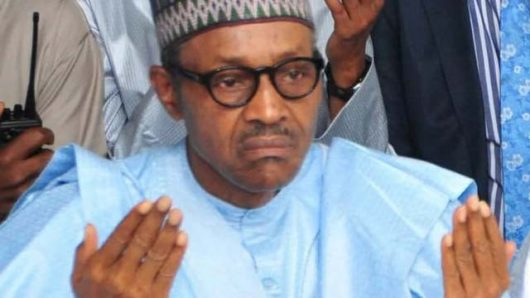 By Chibuike Mgbeahuruike
In spite the shortness of that regime and the impunity and ugly human rights record that characterised it, he left some people-oriented legacies. He rejected an IMF loan and its harsh conditionalities, declared war against indiscipline (WAI), clamped down on corrupt politicians of the Second Republic, made huge efforts to recover the nose-diving economy, etc. This is indeed what has sustained his struggle and continue to endear him to the mass of the people. Again, he did not only replicate the Abraham Lincoln record by contesting and failing elections three consecutive times, but by succeeding at his last attempt.
To attempt a response to the all-important question of public sector corruption and President Buhari's moral high ground to cast the first stone at the albatross, let me first do some preliminary critical appraisals of this albatross called corruption on the entire Nigerian governance structure. We must first appreciate that corruption has remained the recurring encumbrance against good governance, which has been responsible for infrastructural deficits and the general public services delivery decay in Nigeria since independence. Corruption during the First, Second and Third Republics were so endemic. It would be recalled that the First Republic which came on the heels of the hard-earned and highly regarded independence, was not subjected to the corruption searchlight due to the euphoria of the newly won independence which restored freedom and liberty to citizens and reverence to charismatic leaders. One of the many reasons for ousting that republic was the alleged indiscriminate demand for 10 percent gratification for contracts by government officials which got to an intolerable peak.
The 13 years of military expedition in Nigeria's political governance, the 'decade+3 disruptive years', remain arguably the most corrupt in terms of impunity and the absence of transparency and accountability, which became a hallmark of military regimes in the country. Many will also argue that the period somehow institutionalised corruption, which escalated to the extreme level we are now contending with.
Since the return of civilian rule in 1999, Nigerian citizens have continued to present themselves to serve in sundry positions of authority. At local level, we have chairmen and deputy chairmen of local government areas/area councils of the FCT (774+6 LGAs). At this level, we also have the LG executive council, comprising several sectorial secretaries and departmental functionaries. At the state level, we have governors and deputy governors of States (36 States), SSGs, Commissioners and other appointees.
At the Federal level, we have the president, vice president, at least 37 ministers and several junior ministers. At both state and federal levels put together, there are several hundreds of agencies and parastatals headed by politically appointed DGs, Executive Secretaries, including permanent secretaries, directors, and deputy directors across ministries – the list is almost endless.
At the legislative level, we have, for instance, 360 members in the Federal House of Representatives, 109 members in the Senate, as well as those of the State Houses of Assembly, and their respective appointees across the federation, all of who draw billions of Naira in tax payers' resources and budgetary provisions.
While it may be extremely difficult to quantify the ravages of corruption or monetary losses under the different governments between 1979 and 1998, the same cannot be said of the period between 1999 and 2014. Yes, many people have died in recent years on account of Boko Haram, but many more have been killed as a result of public sector corruption (expressed in widespread poverty, accident-ridden bad roads, poor health facilities and general infrastructure decay), but there is now the better prospect of asking the right questions with a view to quantifying the huge resource losses in the respective administrations with a view to making recoveries where applicable.
There are a number of factors that must be appreciated, recognised and/or brought to bear in the Nigerian political environment with a view to ensuring a more efficient anti-corruption intervention. First of all, I doubt if there is any regime in Nigeria, past or present, that has been entirely insulated from public sector corruption. Second, no government can or has effectively dealt with public sector corruption until relevant structures and legal frameworks are put in place to guarantee an almost full-proof system. Third, for corruption to be eradicated or at least reduced to the barest minimum, there must be a combination of enabling features such as a constitutionally guaranteed independence for anti-corruption agencies (ACAs), political will and moral standing on the part of the political heads. Anything short of these modest preconditions (not exhaustive), may at best make a jest of the overall initiative.
Another look at the antecedents of some of our past leaders and regimes that held sway between 1979 and 2014, one could easily notice the absence of preparedness, capacity, sincerity and passion to fight corruption, which put together were nothing to write home about. Beginning with the administration of Alhaji Shehu Shagari, to that of General Mohammadu Buhari, General Ibrahim Abacha, Chief Olusegun Obasanjo, Musa Yar'Adua and Dr. Goodluck Jonathan, none of them was devoid of impunity or corruption.
Alhaji Shehu Shagari, who was president of Nigeria between 1979 and 83, was arguably a complete gentleman, Allah-fearing, friendly and largely sincere but his government was dented by economic mismanagement, growing debt accumulation, treasury looting, retrenchment and discredited elections, which culminated in its eventual forceful removal.
General Muhammadu Buhari who incidentally ousted Shagari in December 1983 remained in power until August 1985. Known as a no-nonsense disciplined military officer, his government was, on one hand, serially accused of human rights abuses and acts of impunity, and, on the other, popular for its determination to root out corruption. Buhari opposed and rejected a International Monetary Fund (IMF) loan and maintained a hard-line stance against corruption and all acts of economic sabotage. It is on record that he attempted diligently to restore the ailing economy left prostate by the NPN government of Shagari.
…there is no iota of doubt that President Buhari has earned for himself the credible moral high ground and therefore the capacity to cast the first stone among all other political or military leaders in the fight against corruption. To that extent, he has my support and indeed the support of majority of Nigerians to take every step necessary to rid the country of pervasive corruption and impunity in the system. However, my sincere counsel to him is that he has the potentials to revisit at least two or three past administrations before him if he must carry out corruption probes.
General Ibrahim Babangida's government was as popular as it was notorious on very many levels. His government was known to have created more structures and institutions than any other in Nigeria's history. It is also on record that his regime recorded more court cases against it than any other in Nigerian history. Under him, Nigerians suffered untold hardship and humiliation. It is equally documented that no Nigerian leader has ever undertaken in quantity and quality the type of projects, economic reforms, foreign policy actions, political engineering and experiments carried out by his administration, even though their outcomes were equally as questionable. Regardless of his harsh SAP policies which emasculated the Naira, his government witnessed gross escalation of corruption and the emergence and growth of advanced fee fraud (419) which became glorified at the expense of other legitimate businesses in the country.
General Ibrahim Abacha's government was perhaps the most corrupt government in history going by the startling revelations of money laundering and the quantum of financial loot reportedly stashed away abroad, as well as their returns from different countries since his sudden demise.
General Abdulsalami Abubakar's regime is respected and regarded highly for keeping a date with history. Although Nigerians had obviously lost patience with the endless transition from the Babangida to the Abacha regimes, he could have still used the apparatus of power at his disposal to elongate the transition period by military fiat, but he wisely warded off every temptation to undermine the short transition timetable. His name still resounds globally for midwifing the shortest transition which gave birth to the Obasanjo government and most importantly the return of civilian democracy in Nigeria, after 13 long years of military expedition in politics. I am neither motivated nor compelled to speak on the corruption profile of that short administration because I have nothing at my disposal.
Chibuike Mgbeahuruike is a political commentator and Executive Director, Civic Space Initiative (CSI)
Having said that, come on Nigerians! Let's give the Buhari presidency all the support it requires to reposition our dear country. A large chunk of this said support, I dare say, should come from the All Progressives Congress (APC) which, by the way, gave him the platform to win the election to govern the country. Unfortunately, they are yet to find their bearing upon which the support in question should emanate.
Chibuike Mgbeahuruike is a political commentator and Executive Director, Civic Space Initiative (CSI)