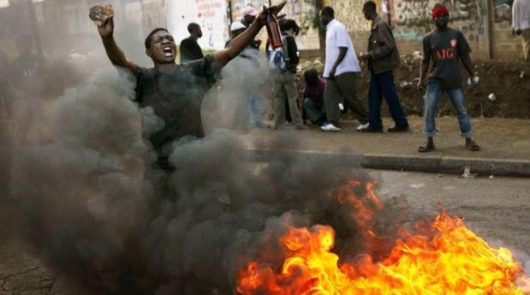 By Jibrin Ibrahim
Yesterday, the Peace and Security Network, in partnership with the Fund for Peace and the United States Institute of Peace, organised a roundtable on preventing electoral violence as the march towards the 2019 election approaches. The paradox is that as the integrity and quality of Nigerian elections improve, the risk of violence rises. This is partly because the elections have become more competitive and the results closer, as we have seen in the last two gubernatorial elections in Ekiti and Osun States. In this context, as the stakes of the elections become higher, the desperation of politicians increase and corruption in the form of vote buying, thuggery and violence could be the result. It is for this reason that the drivers of election violence need to be understood and concerted efforts to contain them become imperative.
The roundtable discussed the controversy around yesterday's Osun rerun elections in some polling units and drew attention to the fact that the Independent National Electoral Commission (INEC) had to introduce the measure because some politicians were deliberately causing violence in constituencies where their opponents have strong electoral bases, with the express intention of getting the votes in those areas cancelled in accordance with the Electoral Act. The measure was therefore developed to address such mischief. Democracy cannot be consolidated if people are allowed to create mayhem and benefit from their dastardly actions. We must not forget the absurdities that occurred in this regard during the 2007 and 2011 elections.
The elections would be taking place at a time when Nigeria is facing an unprecedented existential crisis and one might even say that there is the risk of a growing drift towards chaos. One element of the crisis is the spread of the culture of violence. The Boko Haram insurgency has persisted for a decade and although progress has been made towards containing it, it remains a major problem, with over 30,000 people killed and millions displaced. The Niger Delta remains marked by militancy and economic sabotage. In more recent years, a crisis of pastoralism has developed and deepened, leading to violence and mass atrocities in most states in the country, as herdsmen and farmers clash and cattle rustlers, kidnappers and conflict entrepreneurs enter the melee. Communal clashes are also spreading and the religious arena has become a site for political mobilisation and the articulation of hate and dangerous speech. Increasingly, Nigerians are taking their political directives from their pastors and imams and if religious leaders continue to proffer divisive messages, then the chances of serious violence increases.
The meeting started with presentations of research findings on the risk of violent conflicts. Patricia Taft of the Fund for Peace spoke of the current national context of a crisis of legitimacy of the State, which many citizens consider unfit for the purpose of providing for their welfare and security. Nigeria's electoral history demonstrates that for each electoral cycle, hotspots of violent actions arise. The challenge, she explained is that the hotspots change with each election, so continuous research and surveillance is necessary to identify and address emerging hotspots of violence. In most cases, electoral violence is not spontaneous, it is orchestrated by entrepreneurs of violence who push communities to confront each other. Violence however can be prevented if civil society organisations with convening power intervene early to keep the peace.
Chris Kwaja presented the newly published study by the United States Institute of Peace, which studied eight States in different parts of the country, where the risk of electoral violence is high. The report emphasises the reality that a lot of the risk of electoral violence is linked to local politics around gubernatorial primaries and elections, so we need to focus on state level, not only national level, drivers of conflicts. He also drew attention to intra-party feuds as major factors that create violence, as most Nigerian parties have resisted the culture of imbibing internal party democracy. The report however emphasises that electoral violence is not inevitable and local preventive action can provide a pathway towards violence-free elections. The important point is for INEC, security agencies and political parties to play their roles correctly.
Clement Nwankwo of the Situation Room spoke about the dangers of hate and dangerous speech, especially within the context of the growing use of and access to the social media and the multiplication of fake stories and images. Nigeria's conversational space is suffused with hateful content that is threatening to throw elections into disarray, and hate speech is not limited to the social media. It is openly broadcast on radio and TV programmes and, to a limited extent, in newspapers. He cited numerous examples of fake and hate speeches being circulated to heat up the political atmosphere and drive lines of division and discord among Nigerians. He therefore called for vigilance among citizens and for civil society organisations to ensure that our collective desire for free, fair and violence-free elections are not derailed.
This advice is very important especially because we live in a context in which there has been the erosion of public trust in the political system. A toxic atmosphere has developed in which different actors are suspected of developing plots to destroy others. Actions of whatever type by governments and private actors are no longer taken at face value but are re-interpreted within narratives of coordinated plots by some groups to take or keep power or even to destroy or eliminate others or to take their lands. Late, poor or non-responses by governments to unfolding events have further eroded public trust. The roundtable asserted that the role security forces play in resolving national problems is extremely important. There are concerns expressed that in their deployments around the country and even more important, in policing elections, they are not always neutral in their actions. The abuse of the powers of incumbency through the manipulation of security agencies could therefore push the nation towards brinkmanship, so they must understand the need to conduct themselves fairly.
The meeting ended on the note that Nigeria cannot afford democratic regression, so all stakeholders need to work together and support INEC in producing elections that are as good as, if not better than, the 2015 elections. This is possible if we all become engaged in conflict prevention and work towards respecting our laws and ensuring that our electoral mandate is protected. Violence emerges when citizens believe that they have been denied the justice that their popular votes had given them. Free, fair and credible elections are therefore the ultimate antidote to violence.
A professor of Political Science and development consultant/expert, Jibrin Ibrahim is a Senior Fellow of the Centre for Democracy and Development.