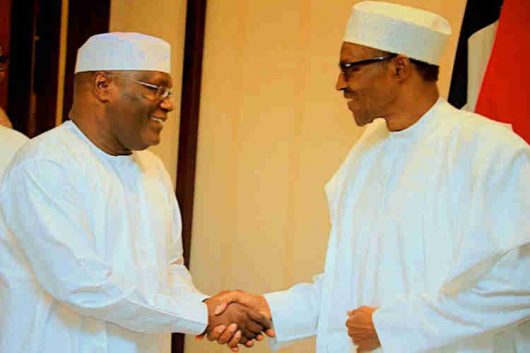 By Vivian Okejeme, Abuja
The Presidential Election Petition Tribunal(PEPT) will today deliver judgment in the petition instituted by candidate of the Peoples Democratic Party (PDP) in the last presidential election, Alhaji Atiku Abubakar, against the re-election of President Muhammadu Buhari.
The Independent National Electoral Commission (INEC) had on February 27, declared President Muhammadu Buhari as winner of the Feb 23, presidential poll.
The five man panel headed by Justice Mohammed Garba had on August 21 reserved judgment in the petition, after all parties in the petition argued and adopted their final written addresses.
The judgement will be coming five days before the 180 days provided by law for the hearing and determination of electoral matters.
The petitioner, Atiku and his party, not satisfied with the outcome of the presidential poll, had approached the election tribunal seeking for redress.
In the petition filed by Atiku and PDP, on March 18, 2019, they insisted that they and not Buhari and APC won the presidential election of February 23, 2019.
The petitioners had in their argument posited that the electoral umpire had connived with Buhari, APC and agents of the Federal Government including the military, to rig the election in favour of Buhari.
They therefore urged the tribunal to nullify the victory of Buhari and declare them winner of the February 23 presidential election.
Moreover, the petitioners asked the tribunal to nullify Buhari's participation in the election on grounds that he did not possess the necessary academic qualifications for the office of President.
They also submitted that President Buhari submitted false information to the electoral body to aid his qualification for the said election.
The justice Garba's five-man panel of the tribunal after listening to both parties argument, reserved judgment which will be delivered today.