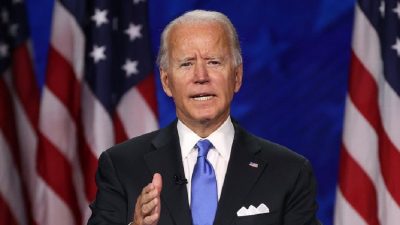 Monday Column By Emmanuel Yawe
royawe@yahoo.com | 08024565402
Americans like to talk about the American dream. But between 2016 and 2020, they got something else. The man they elected into office as President turned out to be an American nightmare.
"We are going to get that idiot out of office" promised an excited black woman who met candidate Joe Biden on his campaign stomp a few days before the election and was so excited to have done so that she engaged him in a prolonged hug. Not only did she take some pictures with the candidate, she predicted a sleepless night for herself as part of the excitement. The clip of that historic meeting has gone widely viral on the social media.
Long before he ventured into politics, I used to read about Donald Trump in American magazines as a wealthy American hotelier and property speculator. It was my friend and senior colleague Chief Timawus Mathias who drew my attention to the fact that he also had television reality shows where he exposed himself as a man with brilliant ideas. I am not sure I watched any of his shows, so I reserve my judgment on that.
On the other hand it was his plunge into politics that caught my immediate attention. He exhibited total hatred for President Barak Obama, most likely because of his black race. On election night 2012, Donald Trump called for a "march on Washington" after President Obama in his bid for a second term defeated the Republican nominee, Mitt Romney, whom Trump endorsed. Trump issued the call while predicting that Romney would win the popular vote but lose the electoral college vote. (Obama won both.) He had also previously mounted an unsuccessful campaign based on falsehood that Obama was not born an American and therefore unqualified to be an American President.
As President Obama's second tenure inched to an end and Donald Trump jumped into the fray of presidential politics, his conduct became more menacing. His pronouncements made him sound more Nigerian than American. Even before the elections were held, he started crying wolf, yelling out to whoever cared to listen that they were going to be rigged.
At a time he was hopelessly trailing Clinton in national polls, he told supporters at a rally in Ohio that a fraudulent election was coming.
"The election is going to be rigged," he said.
After that he told the Washington Post that he wouldn't rule out contesting its result if he lost – very much like we do in Nigeria.
"I don't want to jump the gun. I don't want to talk about that," he said. "I'm just saying that I wouldn't be surprised if the election … there's a lot of dirty pool played at the election, meaning the election is rigged."
His campaign against Hillary Clinton was completely against the norms of modern American politics. He did not hide the fact that he was running for president on a platform of visceral contempt — for immigrants, Muslims and facts — trafficking in insults rather than ideas. There was little dispute that Trump's unconcealed bigotry, proud ignorance and authoritarian tendencies made him singularly unfit for office. Unfortunately, Americans allowed him to make the election a mudslinging contest instead of offering their country a real debate on issues and their future. Tragically too, he won in 2016.
To be fair to Trump and is supporters, we have to agree that he kept most of his electoral promises. This explains why his base remained solidly behind him for all his embarrassing public conduct. He started building the wall with Mexico even in spite of the opposition from Congress, he lowered taxes and improved the growth of the economy and employment opportunities. To his base in the Republican Party, Trump came to be viewed as probably being the best Republican President ever.
He was all on his way for a second term when early this year the coronavirus threw in the spanner in the works. For a man who has little time for details and even less time for scientific details, the pandemic caught him pants down. At first he compared it with a flu and at another he said it will soon disappear. But it refused to disappear, wreaking havoc on human life and wiping out all the economic gains that would have eased his way to a second term.
What many of his opponents and the international community could not stand was his exceeding crudity in politics. Racism was his popular hobby, expressed through rigid immigration controls and the promotion of white supremacist movements. He carried his crudity too far with his assault on the media, advocating such ill-defined notions he invented like alternative facts and fake news. His political adventures did not spare the integrity and independence of even long revered institutions like the executive, the judiciary, diplomacy, criminal investigations etc all of which he captured and exploited for his personal political advantage.
The amazing thing was that Trump had a large contingent of followers who see nothing wrong in his destructive tendencies. Even as the elections approached and Joe Biden maintained a consistent lead, many pundits even in the Democratic Party remained in awe of Trump, thinking he could come from the cold like he did in 2016 and upset the predictions of a Democratic win.
Mercifully, Joe Biden has been declared winner. Still, as the saying goes, "old habits die hard". The tradition in American presidential politics is that the loser graciously congratulates the winner. Trump has so far stubbornly refused to congratulate Biden. Sadly enough he controls a substantial followership. In the election over 70 million people voted for him. His party which he manipulates to his whims controls the Senate.
President Biden thus has the important task of running a divided country that is also plagued by racism and the dreaded killer COVID-19.