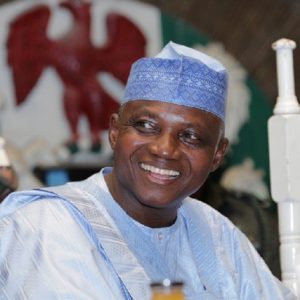 Says cabinet reshuffle calls selfish agenda
By Lawrence Olaoye
The Presidency has described those calling on President Muhammadu Buhari to reshuffle his cabinet as selfish and self centred politicians, urging them to get themselves busy.
Mallam Garba Shehu, in a chat with newsmen at the weekend also challenged those urging the President not to run in 2019 to dare him by contesting against him and be disgraced at the poll.
Reacting to the observation that the President lacked the political will to reshuffle his cabinet, even when they perceive dearth of technocrats, Shehu said "The President is the one who wears the shoes; he know where it pinches. If the president hasn't sacked his ministers, it means that he wants to continue to work with them.
"Maybe those agitating for the sack of the ministers are also looking for a chance to come in to replace those who are there. In that case, then they are driven by selfish motive.
"As president and Commander in Chief, he reserves the right to hire and fire. For the fact that he hasn't done that, does not mean that he does not have the power to do that. I am sure if he wants do it, he will do it at his own pace and time; but people who want to become ministers, how many minister can we even appoint in this country? I think people should just be busy. Let them go and start farming instead of sitting down to speculate whether they can be made ministers or not."
Asked what his response was to the call on the President from certain quarters not to run in 2019, Shehu said, "My response to them is that if they like they can come and contest against President Buhari. He will defeat them; all of them."
On allegations that the President was shielding killer herdsmen from arrest and prosecution, the Presidential spokesperson blamed the social media for the misinformation, calling for its control.
He pointed out that the President only controls a layer of authority (federal), asking whether those at the state and local government levels were also being prevailed upon not to bring the killers to book.
Shehu also scored the Buhari administration high in the area of economy, fight against corruption and execution of capital projects across the country.