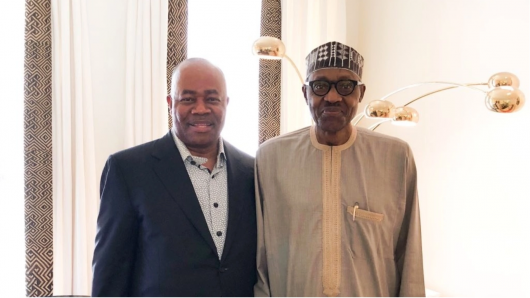 Senator Godswill Akpabio, a former governor of Akwa Ibom state, is set to dump the Peoples Democratic Party and dampen the celebration mood in the PDP headquarters, over the defection of some senators and three governors from the All Progressives Congress (APC).
Now a reverse switch is about to happen, with one of the main pillars of the PDP in the South-South crossing to APC.
APC Newspaper on its Twitter handle announced Saturday night: "We can confirm that, he, Sen (Dr) Godswill Akpabio is a card carrying member of @OfficialAPCNg effective August 4, 2018. @OfficialPDPNig has lost him. Official Reception in days".
And APC United Kingdom in another tweet set the date for the defection: "Acting President, @ProfOsinbajo accompanied by Senator (Dr) Ita Enang, and leaders of the APC in Akwa Ibom to formally receive Senator (Dr.) Godswill Akpabio into APC at Ikot Ekpene Stadium on Thursday 9 August, 2018. All lovers of Democracy are cordially invited".
Senator Ita Enang confirmed the unfolding political drama, tweeting:
I'm confirming that the @APCNigeria family, as earlier indicated, will formally receive H.E,@godswill_akpabio on WEDNESDAY, AUGUST 8,2018 at an elaborate ceremony in Akwa-Ibom State. Senator (Dr) ITA ENANG.Presidential Liaison to the National Assembly- Senate. Sen@itaenanglaw2.com
Akpabio was governor of oil-rich Akwa Ibom state from 2007-2015. He was elected a Senator in 2015 and was chosen as the minority leader for the Peoples Democratic Party senators.
Analysts said Akpabio's crossing over to the APC may flip Akwa Ibom to APC in next February election; and at the worst assure President Buhari of capturing 25 per cent of the vote.
Akpabio's political movement appears irreversible as he met vacationing President Muhammadu Buhari in London on Sunday, four days before he crosses over to the All Progressives Congress.
Issues discussed were not diclosed.
He had earlier met Vice President Yemi Osinbajo in Abuja on Thursday and also national leader of the APC, Asiwaju Bola Ahmed Tinubu, in Lagos.
Akpabio's decision to leave the PDP has dampened PDP celebration over the defection of a dozen senators, three governors and some 30 members of the House of Representatives, who hitherto were members of the All Progressives Congress.
He is scheduled to switch to the APC in Ikot Ekpene on 9 August.