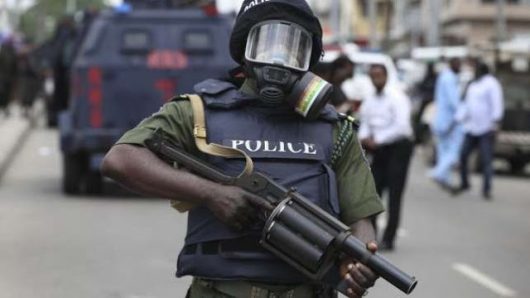 From Ayodele Samuel, Lagos
Assistant Inspector-General of Police in charge of Zone 2 Command, Adamu Ibrahim, has approved the dismissal of four policemen attached to the Special Anti-Robbery Squad, Ikeja, Lagos State, over alleged robbery and other crimes.
The AIG upheld the recommendation of police disciplinary body that recommended the dismissal of the four policemen attached to Special Anti-
Robbery Squad Ikeja, Lagos (SARS).
CSP Dolapo Badmus, the Zone's spokesperson, confirmed the dismissal on Sunday in Lagos.
According to Badmus, the dismissed officers are Sgt. Adeoye Adekunle; Sgt. Adekitan Adebowale; Sgt. Agbi Lucky and Sgt. Odighe Hehosa.
The four policemen who were dismissed and subsequently charged to court on offences of armed robbery, kidnapping, extortion, unlawful detention, intimidation and threatening violence being the report of the investigation carried out against them when one Mr. Chukwudi Godwin Odionye popularly referred to as 'Bishop' submitted a petition against the four on 2nd day of May 2018.
The petitioner, in his petition, stated that on the 4th of June 2017, he was in his house around Alagbado Lagos when the four armed men stormed his house to effect his arrest on the allegation of performing 'FAKE' miracles.
He stated that after his arrest, he was taken to a hotel at Agege where he was detained and threatened to be killed if he fails to cooperate.
He explained further that on the following day, 5th June 2017, he was taken to a bank where he was made to transfer seven million Naira to one of the operative's account.
On the receipt of the petition, the AIG ordered investigation into the case. On the strength of investigation, it was revealed that no proper police procedure for investigation was followed in Mr. chukwudi's arrest; and that the four SARS operatives actually abducted the man from his house and unlawfully detained him in the hotel under the guard of the suspects for personal gain.
The police men who were subsequently found guilty during the orderly room trial for professional misconduct, corrupt practices and discreditable conduct were dismissed and consequently charged to court on criminal charges of Armed Robbery, Kidnapping, Unlawful Detention, Stealing, Intimidation and threatening violence.
The Police Public Relations Officer of Zone 2 Command, CSP Dolapo Badmos, while parading the suspects reiterated the AIG'S directive that the force will not tolerate any act of misconduct that undermines the value of international best practices of policing, as she stated further that any police officer or men found guilty will not be spared.