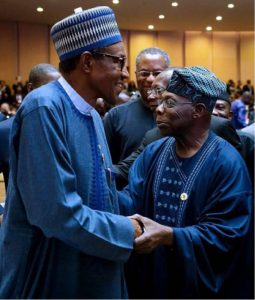 WEDNESSDAY Column by Israel A. Ebije
ebijeo5@gmail.com | or @ebijeisrael.com
Reactions have continued to trail video of president Muhammadu Buhari (PMB) and former President Olusegun Obasanjo (OBJ) shaking hands and throwing banters far away in Ethiopia. The sides of the attacking internet warriors expressed disappointment, insisting politicians are not to be trusted. The hailers and wailers expected open confrontation or outright snubbing from the dramatis personae. They did not expect the intimate encounter, which has become another highlight among supporters to tear down. Internet faceless, nameless lions forget that the generals, politicians, indeed our elder statesmen – except for a few with dysfunctional mindset, are friends for at least 50 years. They know each other like the back of their palms. They will not stake their friendship for any internet Lilliputian in the name of religion or ethnicity. In fact what divides the little, simple minded Nigerians unite these leaders.
The lesson of the African Union summit is indeed instructive, especially for those fighting themselves on social media. Some resort to violence, taking down fiends physically all to support politicians who are oblivious of their existence. I recall how Obasanjo was hailed to high heavens for his "before it is too late" epistle to Jonathan. He was praised, they called him a hero. The standard however changed immediately when he (OBJ) raised similar observation against Buhari. They called him third term proponent, killer of Nigerians, old fool etc. Yes, Obasanjo may have missed some opportunities but he was once hailed despite his shortcomings. To further throw more shit at Obasanjo, a crafty Buhari supporter dusted the letter Iyabo penned some years back, pretending its her reaction to her fathers "love" later to PMB. Many gullible Nigerians with no knowledge of history or penchant for investigations characteristically swallowed it, instead believed Iyabo's rebuttal was the fake. No doubt, the images from Ethiopia sent so many to the hospital as heartbreak, disappointment overcame them. They hoped to see a critical mass of tensed atmosphere, where the lines would be fully drawn for a battle, the hailers and wailers are "fully prepared" to fight.
It comes to no sane mind as a surprise how Nigerian youths remain conquered political stooges. They are shallow, narrow and hollow. They are so restricted to their immediate environment, fighting only to keep their ethno-religious underpinnings without much ado about the larger interest of Nigerian. It is most disheartening to find the educated toeing the lines of the unschooled to throw Nigeria into full time reverse gear situation in terms of collective aspiration under a unified federal character based deployment of human resources amongst others. It therefore didn't come to many as surprising to find morally disadvantage people around Buhari drafting a tacit line of dividing the country along ethnic, religious, indeed nepotistic classifications. They reined their horse of impunity because, they had a mindset and a platoon of deficient educated Nigerians doing breakdance for their broken lyrics towards a divided Nigeria. These has shown in skewed appointments, slanted fight against corruption, poorly hatched policies etc. Not a wonder many Nigerians are expecting the next major headlines targeting OBJ in the dragnet of the EFCC. The president himself knows better than that.
Many Buhari supporters believe he defeated former president Goodluck Jonathan based on his popularity and track record as a disciplined elite. They forgot he attempted three times earlier and failed not necessarily because he lost. They also forgot that there are other variables far removed from popular support, majority votes. They have quickly forgotten that the All Progressives Congress (APC) toured across the country in 2015 to visit past leaders added value to the entire process. I have mentioned in several analysis that our former leaders are only powerful because the youths abdicate their throne for the older to continue to rule. I queried why the old leaders should determine who rule Nigeria. The truth however is that these former leaders have the ears of international community. The world will listen to them when they pass verdict on any government. Ranking high among our leaders alive today is Obasanjo. He may not be able to give anybody beyond a single vote, but his position on any election is enough to make the world dismiss any presidential election result. This is what Lilliputians on the internet do not know. Interestingly, Buhari is aware of these facts.
It was possible for Jonathan to have resisted the outcome of election in 2015, but the eagle eyes of the likes of Obasanjo and General Abdulsalami Abubakar among others were keenly focused to report to the international community. It is therefore instructive for the APC led administration that votes in 2019 are not won based on paid declaration, because the world is watching – indeed the likes of OBJ will tell for them. We may recall that sometime last year, OBJ visited Minna, where he met with General Abdulsalami and Ibrahim Badamasi Babangida. They will obviously connect with others of their peer on the state of affairs of Nigeria. Obasanjo as always is their scribe, hence he releases the opinion of others, coloring it as his own opinion. Let no one make any mistake, that later or the "statement" represents the opinion of many notable Nigerian leaders who have endorsed it before it was released. That fact, Buhari is aware of. He would have to work hard to win their confidence back or take a bow for another rider to take the reigns of power.