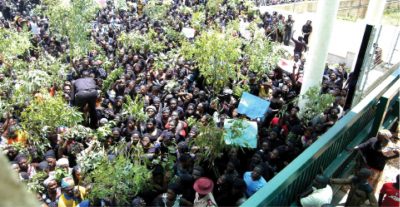 From Ado Abubakar Musa Jos
Christian women yesterday staged a peaceful protest over the recent killings in Plateau.
However, what was intended to be a peaceful protest turned to violence when the entrance to the Secretariat offices of Plateau State Government House was vandalised by the angry women.
It was gathered by our correspondent that they also smashed glasses of five vehicles, two of which belong to journalists who went to cover the protest.
The protest took place at the instance of the Christian Association of Nigeria (CAN), Plateau Northern zone, as directed by its Chairman, Rev. Isa Nenman, who called for massive protest by mothers and supported by the youths.
One of the car belonged to the State Secretary of the Nigeria Union of Journalists (NUJ), also a staff of the News Agency of Nigeria, Mr.
Peter Amineh, while the other car belonged to the Core TV, Jos correspondent Mr. Douglas.
Our correspondent reports that the Police personnel stationed fired gun shots to disperse the protesters.
The protest commenced at about 10:30pm, as women and youth from all Christian denominations converged at the old airport junction, dressed in black clothes, carrying placards and green leaves charting songs to the Government House.
The procession covered about two kilometers and the protesters attempted getting into the official resident of the Governor but were not allowed access by the Police, thereafter they proceeded to the office of the governor.
Governor Simon Lalong, was not at the Government House when the protesters entered, it was gathered that Lalong went to visit some of the casualties of the violence at the Jos University Teaching Hospital.
One of the protesters, Mrs. Nanbam John Dawan, said: From the State Government and the Federal Government they are doing nothing."
She said: "Because they stole 300 cows, and they are retaliating, they have not started in own land."
"We are tired of the killings, no place is safe in the Plateau," she added.
The protesters also carried placards with several inscriptions, some of which reads: "We are tired of the killings," "Trump come to our aid," "Give us back our land," and many other wordings on some placards.
However, Director of Press and Public Affairs, to the Governor, Hon.Samuel Nanle, attempted addressing them, but they couldn't paid much attention to him.
Hon. Nanle, told journalists that the protest was hijacked by some bad elements, stressing that those that have vandalised government and other People's properties would, "be held responsible for the damages."
"The Government is doing everything humanly possible to ensure security of the People," he said.