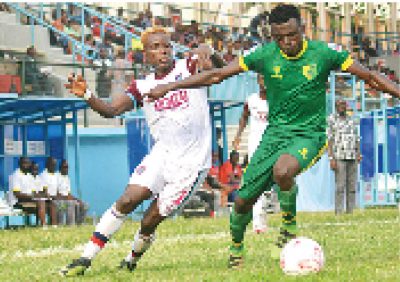 The Plateau State House of Assembly approved a N1 billion loan from Fidelity Bank Plc for the state government to complete an ultra-modern stadium in the state.
The Governor Simon Lalong, had sought the approval of the Assembly to access the loan.
The House Majority Leader, Henry Yunkwap, said the money would be used for the roofing and completion of critical aspects of the stadium.
"Mr. Speaker, with the way Plateau United is going international; there is the dire need for government to complete some critical aspects in the stadium.
"We need to particularly roof the stadium because some international matches will be played in it and with the coming of the rains, government need to act fast.
"If international matches are played here, certainly, we will generate revenue because a lot of football lovers will troop into the state during matches," he said.
The Minority Leader, Daniel Dem, who expressed concern over the increasing debt profile of the state, said N200 million was appropriated in the 2018 budget for the completion of stadium.
"If government is sincere about this, it should have included the loan in the budget.
"I am not against the completion of the stadium, but collecting loan for this purpose is not a wise decision, especially that it wasn't budgeted for," he said.
Peter Ibrahim, member representing Barkin Ladi Constituency, raised concerns on how government intends to service the loan, as it was indebted to the tune of over N200 billion.
Mr. Ibrahim, however, advised that government should embark on projects that would have direct bearing on the citizens and generate huge revenue for the state.
After series of contribution from members, the house through a voice vote approved the request that government should access the loan facility.