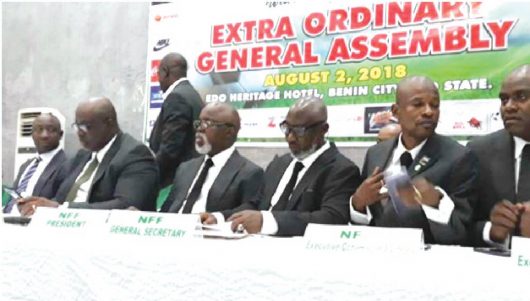 By Amaechi Agbo
Plans by the embattled Nigeria Football Federation President, Amaju Pinnick to gain a 'vote of Confidence' vote during the federation's Emergency Congress in Kaduna this weekend, has been revealed.
It was gathered that with just two hundred and fifty thousand naira (N250, 000), paid to each members of the NFF Executive committee, the 'deal' will be done.
"The NFF emergency congress will be staged to pass a vote of confidence on the Pinnick-led NFF board," a top official informed the paper.
"Passing a vote of confidence on Pinnick and his executives has been a routine, but this latest gimmick is for embattled Pinnick to consolidate from home after the recent events at CAF.
"He wants to immediately show CAF and the rest of the world that he has support from his home," a source told a newspaper
Last week, Pinnick was disgraced at the Confederation of African Football (CAF) when he was booted out as 1st Vice President and also sacked from all the standing committees of the continental body including the all-powerful AFCON Organising Committee, which he headed.
Observers said that his vaulting personal ambition to unseat CAF President Ahmad Ahmad meant he only spent 11 months as CAF No 2 man.
In a piece by the president, National Association of Nigeria Footballers, Harrison Jalla, titled Scotch Earth Policy For Those Who Came To Steal, Kill And Destroy Nigeria Football, he alleged that with just N250, 000 members of the congress could compromise and perpetuate corruption and ineptitude on Nigeria football.
"Much ado about proposed NFF Kaduna Congress. But do we really have a congress? If Nigeria football federation has a Vibrant Congress the recent embarrassment to Nigeria from CAF by the sack of Amaju Pinnick would have been avoided. Charity they say begins at home.
"A Vibrant Congress would have activated the relevant clauses in the NFF and CAF/FIFA statutes as interim measure suspend all the top officials of the NFF currently facing criminal charges in two separate courts in Nigeria and proceed to dissolve the NFF board and call for fresh elections.
"These same NFF officials are still being investigated by the compliance Unit of CAF and the Secretariat of the investigatory Chamber of FIFA. And by the end of these investigations Nigeria will be further subjected to more embarrassment and Disgrace.
"But Nigerians should not be surprised that with just 250k each to every member of the Congress by Amaju Pinnick and his gang, the proposed Kaduna Congress will hold for less than 15 minutes and a vote of confidence will be passed on this gang.
"The NFF is not a political party it is a National Asset, the characters that constituted the NFF congress today though 90% of them never merited it, should see National Interest above personal and parochial interest.
"But Amaju Pinnick and his gang are very comfortable with these characters that constitute the Congress hence they are unduly interfering in the Elections in Delta, Edo, Rivers, and Ondo states to install their cronies. But the NANF wants to Assure the NFF that it will be fight to finish for undue interference in any F.A Elections. The provision of the NFF, CAF/FIFA statutes is very clear and unambiguous that affiliates should run their affairs independently without external influence.
"The state football associations are not creations of the NFF they are just affiliates.
"Those Neophytes and gate crashers into Nigeria Football Administration whose strategy is to divide and rule and occupy the space of Ex-Footballers by seizing and capturing Nigeria Football will face the NANF Scotch Earth policy that will distant them from the game of football forever," he wrote.
When contacted by our reporter, Mr Jalla said that as a former member of the board, usually N250, 000 is paid to each delegate in such circumstance.