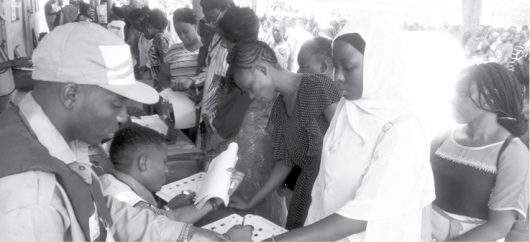 By Stanley Onyekwere
Abuja residents are still relishing the peaceful conduct of 2019 Presidential and National Assembly Elections with great enthusiasm, despite the controversies that heralded the exercise, following its initial sudden shift by the Independent National Electoral Commission (INEC), just few hours to its commencement penultimate week.
Unperturbed by late arrival of voting materials and INEC officials as well as slight card reader challenges, Abuja residents turnout enmass to participate in the last Saturday's electoral process.
Our correspondent reports that many of the voters arrived as early as 5 and 7 am, and queued up at various polling units while waiting for the arrival of the electoral officials.
It was gathered that in few cases where there was challenges associated with the card readers, they were quickly resolved, and voting continued unhindered.
At some of polling units visited there was presence of security personnel at entrance and around voting area, while security operatives were seen doing stop-and-search and patrolling the streets.
It was observed that there were fairly gender balancing of both the security and electoral officials deployed to conduct and secure the elections.
Also, there was priority voting pattern adopted by the officials, that enabled persons living with disabilities, pregnant women and the aged (senior citizens), thereby ensuring inclusiveness in the process.
And at the end of voting, the sorting and counting of ballot papers was done under the watchful eye of the party agents and electorates at the various polling stations.
However, a cross section of residents, who spoke to PeoplesDaily said they were very exceedingly optimistic that the peaceful exercise will further strengthen the democratic system in the country.
They described the elections were fairly and duly peaceful and credible experience so fair, saying the adoption of simultaneous accreditation and voting process for the 2019 polls helped fastened the process.
Narrating his voting experience, a businessman, Mr Emma Onyeahala, as early as 7:45 am he joined others on the queue at his polling unit 005 inside LEA School in Gwarinpa village.
He said barely one hour later (that's 8: 4:45) when INEC ad-hoc staff arrived, they started the simultaneous accreditation and voting.
His words: "As soon as we got there, we queued up, and after they cleared (accredited) we were given ballot papers to cast our vote.
"After voting, most of us left to go and take something (food) and return to the polling unit for the sorting and counting process.
"So, in terms of accreditation and voting, everything went well. INEC really tried as it printed everyone's passport with their names and registration numbers.
"We want to encourage the government to keep supporting INEC financially and others, so that we can keep moving forward in this country."
He continues: Since I was born, this is my second time of voting. This first time I was very tender, as I was not married but now I'm married with children, so I'm happy that I came out to vote.
" I had told myself that I'm going to participate in the electoral process, to exercise my civic responsibility."
Similarly, an Estate developer and agent, Timothy Okoye, described the election was largely peaceful, as there was a little bit of orderliness during the exercise.
Okoye noted although at the beginning of the exercise, there was a kind of uncertainty in the air, but a lot of things were brought under control, so we expect a peaceful outcome.
"I thank God for the opportunity to have a say in who governs us, which is very important.
"We know this is done once in four years, so it's very important one does the needful, so as not to blame yourself for not exercising your civic right," he stated.
Another resident, Kingsley Ndubisi, who was seen at Polling Unit 0024 inside the Gwarinpa Model School, recalled that he was at the polling centre around 7am, where he met others, who were on ground before INEC officials arrived with electoral materials.
According to him, people are happy that everything went well, as no violence of any kind was recorded.
"Everybody was happy to participate in the process. And we love the adoption of simultaneous accreditation and voting system for the exercise, and we pray it will continue.We want Nigeria to be more united.
"We need INEC to step up, so that things will moving well in subsequent elections in the future," he stressed.
On his part, an elderly voter, Malam Audu Sulaiman, who commended the youths for ensuring that people conducted themselves in an orderly manner during the exercise.
He opined that the way that people participated in the process of electing their leaders, show that there is more determination to exercise civic rights.
Not left out, Coordinator, Satellite Towns Development Department (STDD), Hon. Tanko Yamawo said the huge turnout of voters during the exercise was a reflection of the advancement of the democratic journey.
Yamawo said it was commitment of the people that was displayed during the exercise, while commending the conduct of the FCT people, INEC staff and security personnel throughout the exercise.
"In my own polling unit, some people came to queue as early as 4:30 am, just to make sure they cast their vote.
"I think what we have seen with the elections is a testimony that there's a change of attitude among the political class.
"When the election was rescheduled, people were entertaining a lot of fears that maybe there will be mayhem or crisis over the place but in FCT there was huge turnout of voters, as people are committed to seeing that they cast their vote," he explained.