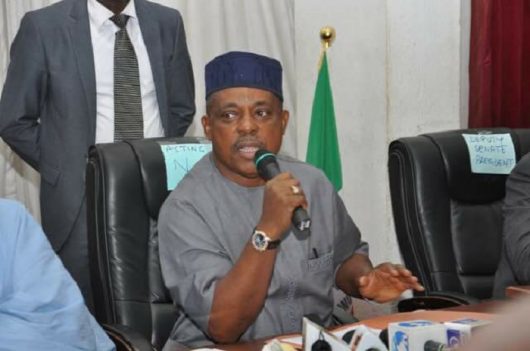 Complains about INEC, security in Ekiti
By Lateef Ibrahim, Abuja
The National Chairman of the Peoples Democratic Party, PDP, Prince Uche Secondus has hinted yesterday that the party may boycott 2019 general elections, saying the party contested against the Independent National Electoral Commission INEC and the Security agencies in Ekiti not All Progressives Congress, APC.
Prince Secondus said this when he received a Joint International Election Observation Mission fielded by two main American international civil agencies, the National Democratic Institute, (NDI) and the International Republican Institute (IRI) on Thursday, at the party headquarters in Abuja.
In a statement from his media office and signed by the Media Adviser, Ike Abonyi, Prince Secondus said that what happened in Ekiti state was not just electoral fraud but robbery in connivance with INEC and security agencies.
The statement reads in part: "In Ekiti State governorship election last Saturday, we did not contest with APC; we contested with INEC and Security agencies.
"Ekiti election is strategic to the general election in 2019, and from what happened, we are consulting with our people to see whether we would participate in the election or not."
According Prince Secondus, a situation where bodies that should be neutral in a contest are brazenly helping to manipulate the process in favour of one party, is antithetical to democracy and is a dangerous signal.
He said there are clear indications for all to see, that the ruling APC is scheming to engineer more crisis in the land to enable them manipulate the electorate process in their favour in connivance with security agencies.
The statement added, "For us, as an opposition party, we have lost confidence on INEC and security agencies."
The National Organizing Security, NOS, of the party, Col Austin Akobundu, who also briefed the visiting international agencies on Ekiti, said the election involved various electoral frauds through intimidation and ballot snatching.
Akobundu said that INEC's fraud was so transparent that it produced conflicting figures of the result, and had to pull it down from their website.
The leader of the delegation, Dr Pauline H. Bakaer, President Emeritus, Fund for Peace United States, said that they were on the visit to share ideas with the opposition party on their challenges ahead of the 2019 general election.