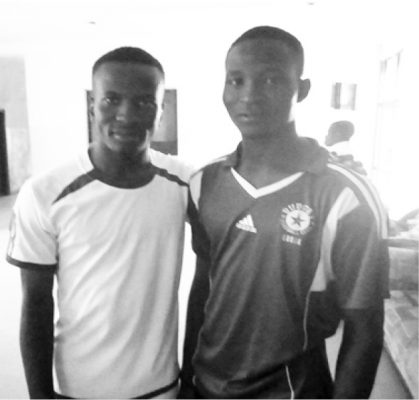 By Amaechi Agbo
Players of the FCT League new entrant, Fosla Football Club, FFC, have set the target of playing in the Nigeria Professional Football League within the next five years as their priority.
The players disclosed this in an interview after demolishing Cosmat FC 9-0 in a friendly match recently
Captain of the side, Andrew Oyenke Junior, who described the registration of Fosla Football Club, FFC as wonderful idea and held the coach for doing a great job with his technicalities, said the that playing a club football would help the players to improve by playing other clubs in league.
The captain who is a second year Mass Communication student of Nasarawa State University, Keffi, thanked the proprietor of the academy, Alhaji Sani Lulu for his great strides and efforts in taking the academy to a greater height.
"Registration of Fosla Football Club, FFC, is a wonderful idea; it is a welcome development. That is what we have been praying for even when we were in school right from the grassroots foundation when we started with under 13 in 2011. We want to improve all the time by playing in bigger occasions such as the national league, the premier league and even CAF Champions League. We want to go far because our dream is to go higher. We are happy registering with the state league and we believe that it is a good step for us and after this year we will forge ahead.
"I don't think it will be strenuous combining playing football and studying because that is what we have been doing all our lives – playing and studying.
"The management of Fosla Academy and now FFC should keep up the good work and support. We are just like a family, we are together. The relationship we have is a bond one and I want to encourage each and everyone of us to keep up with the spirit. Our proprietor, Alhaji Sani Lulu should keep up the good spirit and motivate the team as usual. We want to be playing premier league in the country in five years," the visibly elated captain stated.
Also speaking, the deputy captain, Abdulazeez Abdulganiyu said that his target was not just to play in the state league and win it but also to play in the NPFL and challenge other traditional clubs in the league.
"I was elated when I got the information that a new team, Fosla Football Club has been registered. I am not just happy over the registration but very happy that I will be part of this great football club. My target is not just playing the state league and winning it but seeing the club playing premier league in five years' time. Not just playing in premier league but being among the top teams competing with Enyimba, Kano Pillars and the rest of them," he said.