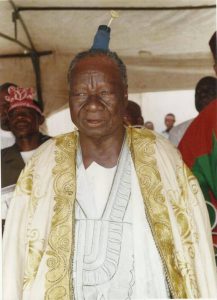 By TOBIAS LENGNAN DAPAM
The paramount ruler of Chip District, in Pankshin Local government area of Plateau state, Nda Wesley Mulak, in an interview with Tobias Lengnan Dapam, said that the hospitals and schools in his Chiefdom are in need of urgent attention by government. Mulak, who recently became the acting Ngolong Ngas, also spoke on other sundry issues. Excerpts:
Sir, in the wake of so many diseases in the country, would you say the health facilities in your chiefdom are capable of addressing any of such challenges?
Our major challenge is that the hospitals and other health facilities in the chiefdom do not have the capacity to curb any major health challenge. For example, the Cottage Hospital Dyerok which used to be the hope of the people is now a shadow of itself. The hospital does not have mortuary, no ambulance, generator and other necessary things needed for the full operation of a hospital are not there. Also, the mattresses are bad and leaking roof everywhere. The fans are not working. I fact, everything needs serious attention. The hospital cannot address health challenges of the people, owing to lack of equipment. Where there are equipment, no qualified personnels to man them. The hospital currently has only one doctor and few workers in other departments. This is a hospital that needs three doctors and more. The current situation on ground needs urgent government attention to provide help to our people. There are also cases of people abandoning the hospital to seek help elsewhere. This should not be. We want the hospital to be fully operational with updated health equipment and qualified health personnel to take charge so that our people will stop going to other places to seek medical attention.
Also, there is another mission hospital, in Longkat, where I worked before now. That hospital too is in bad shape. It is not the same hospital that people relied on in the past for quality health services. Based on this, you can see that in this chiefdom there is no standard health facility that can help address some of our health challenges. We want the Government to come to our aid and put and end to these challenges so as to safe our people the stress of traveling distance to seek medical assistance.
Which disease do you think is common among your people?
Well, some of the diseases that are common in our community are; hypertension, typhoid fever, measles and few others. But so far, we thank government for its assistance on measles and other injections for children. This has helped reduce the spread of these diseases among children. High blood pressure is common among the elderly. They also need quality health system so that they can access the hospital at their convenience.
On portable drinking water, would you say the government has done enough for your people?
So far, we have some boreholes drilled by the government. The past administration drilled some and we also have some on going projects. Our people no longer go to the stream like before. This is because the government is trying to ensure that the people have access to portable drinking water. When our people relied on water from the stream, there were so many health challenges that they faced. But we thank God that it has reduced. However, there are other communities that we want this gesture to reach so as to completely solve the problem of drinking water in the community.
So far, are you satisfied with the schools and quality of teachers in your chiefdom?
We have enough schools. But the major problem is lack of teachers to teach the students in the various school. Recently, I went to the education office in the local government to seek for assistance, but nothing is done yet. Also, some teachers will soon retire and we need more teachers to fill the vacancies they will leave behind. It is also unfortunate that some primary schools have just one teacher. How would you expect one person to teach the whole children in the school? we always complain of children failing exams and not doing well in their subjects- how would you expect them to pass under this condition? You can only question their competence and expect them to pass if properly thought by qualified teachers. This is a serious issue beclouding our people and we want government to deploy army of teachers to the various schools in our community.
You recently cautioned youths in the community about drug abuse, would you say the trend has changed since your warning?
Most of these children are not in school and they indulge in behavious that is not common with our people. These category of youths only embrace illicit gin and other substances that could affect their health. Some of them even die as a result of this drugs. Their behavior is not palatable. I told the security agencies to apprehend anyone found wanting so as to serve as deterrent to others. This is because most of them have become thieves and are portraying the community in bad light. I would like to parents to also help and caution their children and teach them good morals so that we will get rid of unscrupulous elements from our community.