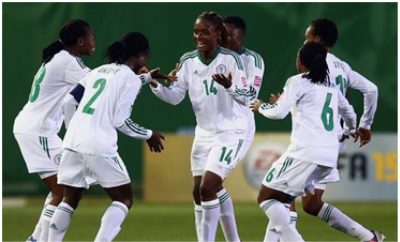 Ahead of the of the return leg of the FIFA Under 20 Women's World Cup qualifier against South Africa on Saturday next week, coach of the Falconets, Christopher Danjuma, has declared that the focus of his team is to finish the qualifier and establish Nigeria's status in France.
Speaking in an exclusive interview with our correspondent on Tuesday at Area 3 Play Ground, Abuja after the team's evening training, the coach who said that his ladies would not sit back and watch the South Africans, added that his approach would be to ensure that Nigeria's France status is established in the first half.
How did you feel winning South Africa 2-0 in their home soil on Sunday?
Naturally you feel elated and happy but getting ready again to make sure that the victory to France is established.
Do you think, with this away win, you have the squad that can shake the world in France?
My brother, everything is taken step-by-step. Our first focus now is to finish the match in Benin. Then after that we begin to talk about how the team is going to take the world.
What would be your approach to the return leg?
You don't sit back and relax. In Benin, definitely, even before the first half is ended, we will make sure we are already established in France. We are going there to make sure we win the return leg.
The female teams are finding it difficult in recent times scoring many goals against their African opponents. What could be responsible for this?
It is not the issue of us finding it very difficult in scoring goals; the issue is, even in the world, everybody is developing. Nigeria is the team to beat in Africa and everybody measures their prowess by how much they can stand against Nigeria by not being wiped by Nigeria. It is not as if we are not doing our best but we should know that oppositions are getting better and tougher and we are also getting better and tougher too.
How prepared are you to withstand the South Africans who will be all out knowing they have nothing to lose?
Training is still going on based on the first leg match we played and we are not unaware of what our opposition will want to come and do. So, we have also raised our stake to make sure that going to France is established.
How do you explain the fact that Nigeria rules Africa in female championships but find it difficult to extend same in the global events?
That, I might say, was in the past. This is a new era and a new period entirely. For immediately after the last qualifier, I will begin to talk about that.
Fans' expectations and your message
My message to the fans is to thank them because right from the onset of this campaign, everybody has been supporting us and believe in this team. They should continue to believe in this team which has been a team that Nigerians have followed closely, keenly and interestingly. Keep supporting us the way you have been doing, by the grace of God, come 27 January, Nigerians will be happy with the team.
What do you think has sustained the girls' great performances so far in the qualifiers?
It has not been easy. There is no country now that is an easy ride in football. What has been working for us is discipline, focus and the ability to make sure that we retain the great records that have been set before us.