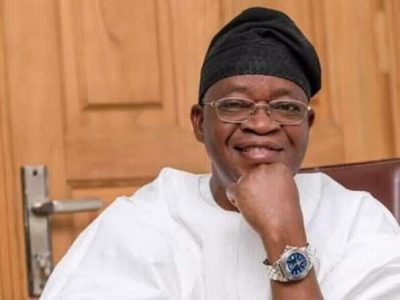 By Ese Awhotu
The All Progressives Congress, APC has rejected reports of observers on the just concluded Osun governorship election which that faulted the conduct of the polls won by the candidate of the party, Alhaji Gboyega Oyetola.
APC, said the observers were not sincere in their reports.
The APC chairman in Osun State, Mr Gboyega Famodun, stated the party's position at a press conference in Osogbo yesterday saying that on Oyetola won the poll without any manipulation and therefore his was incontestable.
According to Famodun, both foreign and local observers were insincerity.
He noted that the observers had adjudged the election free and fair only to reverse their position to fault the election.
Famodun was of the opinion that the observers relied on the lies furnished it by the opposition to fault the election.
"We are not impressed by the volte face of some foreign and local election observers who in one breath acknowledged the peaceful and fair nature of the process, but in another, questioned the outcome just at the tail end at the collation centre, where the die is already cast, and nothing can be changed or influenced again.
"As far as fairness goes, you cannot recommend a process and at the same time deny its conclusion," the APC chairman said.
He alleged that the Peoples Democratic Party,PDP brought hoodlums from Kwara State into Osun State as well as fake observers but security agents prevented them from interfering with the election.
Famodun added that the PDP and its candidate, Senator Ademola Adeleke, lied that genuine observers and voters were turned back by security agents from accessing venues of the election.