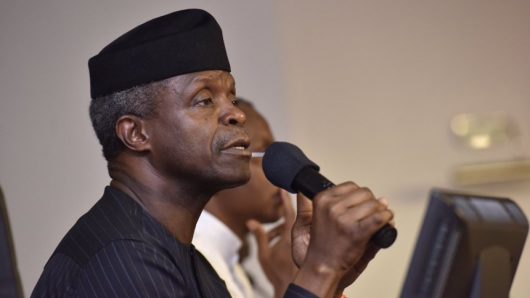 By Lawrence Olaoye Abuja
Vice President, Yemi Osinbajo has launched the Patients' Bill of Rights (PBoR) to enhance healthcare service delivery in the country.
Osinbajo called for the full implementation of the document while assuring that the Federal Government would continue to place the welfare of the citizens above any other thing.
The launched organized by the Consumer Protection Council (CPC), was attended by critical stakeholders in the country's health sector including the Nigerian Medical Association (NMA) at the State House Conference Center, Abuja.
PBoR, is an aggregation of patients' rights that exist in other instruments including the 1999 Constitution, Consumer Protection Act, Child Rights Act, Freedom of Information Act, National Health Act and other sundry regulations.
PBoR was developed by the Consumer Protection Council (CPC) other stakeholders including the Federal Ministry of Health for the protection of Consumers.
Osinbajo said: "Putting the welfare of the citizens above everything, this is what genuine government is all about. We will continue to do this"
Some of the rights contained in the document are: "Right to be treated with respect, regardless of gender, race, religion, ethnicity, allegations of crime, disability or economic circumstances.
"Right to relevant information in a language and manner the patient understands including diagnosis, treatment, over procedures and possible outcomes."
It also talked about right to privacy and confidentiality of medical records.
According to Osinbajo, Nigeria's quest to attain universal health coverage goes beyond funding, calling on stakeholders to join hands with government to deliver quality healthcare to the people.
Osinbajo described the Patients' Bill of Rights as a remarkable effort at consensus and common purpose, in the face of the many challenges of healthcare in Nigeria.
"It cuts out noise and distractions, and focuses on what is truly most important: putting people first. It serves as a code of accountability, constantly reminding us of the primary purpose of the healthcare system, and of the obligations of every player and stakeholder in that system. It helps clarify consumers' expectations of providers, and providers' responsibilities to consumers."
While commending all those who worked out the Patients' Bill of Rights, he called for compliance with the bill.
Also speaking, Minister of Health, Professor Isaac Adewole, advised health-care providers to "stop playing god."
"The right of the patient must be protected while at the same time the right of the providers must be guaranteed."
He said the expectation of government was that the PBoR help in the resolve to achieve Universal Health Coverage through strengthened health-care delivery system, building synergy between the service provider and the patient, improving patient's understanding of health procedures and technologies and improvement of patient's safety and quality of care.
In his opening remarks, the Director-General of CPC, Mr. Babatunde Irukera, said the "PBoR is our boldest step yet in soft infrastructure in health care."
He said it was the vital vehicle upon which, even physical infrastructure must ride to truly deliver service.