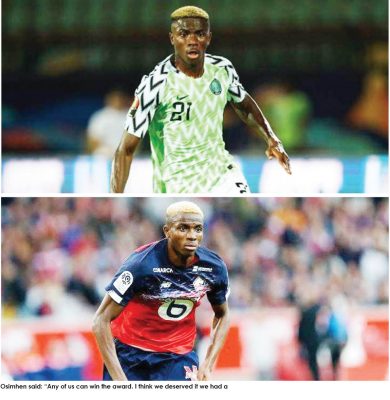 Lille Metropole of France striker, Victor Osimhen has confessed that he is holding a very strong desire to win this year's African Best Young Player award, as he is thinking big of being named top of the last three standing on January 7 in Egypt.
Although he is short-listed alongside fellow-Super Eagles youngster, Samuel Chukwueze, who plays for Villarreal of Spain, and the current holder, Achraf Hakimi of Morocco, Osimhen stated in confidence that he is thinking only of emerging top of the trio in the North African country.
However, while admitting he would love to win the upcoming award, Osimhen acknowledged that Chukwueze and Hakimi have also done well this year, hence his verdict that it will not be a stroll for him to the gong on January 7.
The Nigerian rookie, though, believes he has done enough for club and country in the outgoing year for him to stand first on the podium of the continent's best youth player of 2019, and take home the gong for which many football followers believe he appears highly qualified.
Charleroi of Belgium star previously took the gong home in 2015, after his top scoring feat at the FIFA U-17 World Cup in Chile; Osimhen says he wants to get a second feel of the plaque.
He comes into hot contention for the prize after netting 31 goals in all competitions for club and country, with nine assists to boot, and has already promised that there a lot more to come from off his boots and head him in the coming year.
While savouring his successful run of 2019, during which he transformed from a lad left to wallow at Wolfsburg into a resounding success at Charleroi and, subsequently, one of Africa's current top scoring youngsters in all of Europe's top five leagues.
He is now looking to add the CAF Best Youth Player award to his closet come January 7 in Egypt, ahead of which the product of Ultimate Strikers Football Academy of Ojota, Lagos also assured his fans that he will continue working hard to keep doing well for both club and country.
very fantastic year but I am also looking forward to winning it. The year was a very high one for me but I want to keep doing well for both club and country.
Although there will be hard times sometimes and criticisms, I'm really looking forward to doing well in (2020) and surpass what I did this year.