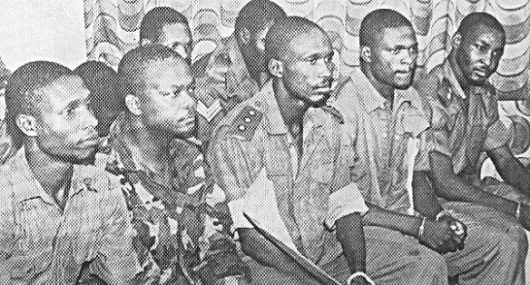 Monday Column by Emmanuel Yawe
royawe@yahoo.com | 08024565402
I first heard that there was a coup in Nigeria on 22 April 1990 from veteran broadcaster Nyaka Mindapa. He was the founder of a popular political programme – "Democracy in Action" on FRCN Kaduna during the second republic. Now back home in Yola, he was running a department at the Gongola Broadcasting Corporation while I was the Chief Executive of Gongola Press Ltd.
"Have you turned on your radio Emma", he asked me in a disturbed voice.on telephone. I told him I had not. He then urged me to go to my radio immediately; that a soldier was there, tearing the country into pieces.
Nyaka was right. It was a coup announcement that had not been made before even in a country that was besotted with coups at the time. I listened, dumbfounded. The announcer listed some number of states and heaped the blame of all that was wrong with Nigeria on the indigenes of those states. In a frightening demonstration of military strength, he excised those states from Nigeria.
Amazingly, this was a well-known voice to me. In 1960, just before independence, there was wild rioting in Tiv Division of Benue Province. Our village Shagu was in Wukari Federation of Benue Province but had a large Tiv population so we got caught up in the rioting. I narrowly escaped death and fled with my mother who took me to Sai, her own village located halfway between Takum and Wukari. My father was captured alive and taken away by the rioters, presumably to be killed. Miraculously, he survived.
My maternal grandfather took me to Apir, a village on the outskirts of Makurdi, the Benue Provincial capital where he was serving as a Pastor. I enrolled in Primary School there. One of the pupils who enrolled with us we simply called Gwaza. His father was Orkar Chi from Yaikyo village, not too far away. Now a Major in the Nigerian Army, he gave his name as Major Gideon Orkar and was the familiar voice on the radio.
It sounded all so strange. We were all Christians, brought up in the best tradition of the religion – love. The missionaries who brought Christianity to Tiv people in 1911 first settled in the village of my great maternal grandfather, Saaitu Deekpe, whose name was later shortened by the missionaries to present day Sai. My maternal grandfather, an early convert became one of the first four Tiv men to be ordained as priests. He is known in history as Rev JEI Sai. Orkar Chi, father to Gwaza, now Major Gideon Orkar was also an early convert. But he was a teacher, in fact one of our highly regarded teachers at Apir. All through our upbringing, the missionaries, originally from the Dutch Reformed Church in South Africa, who later handed us over to the Reformed Church in North America, taught us nothing but love. Gwaza went to Gindiri on the Plateau for his Secondary School while I went to Bristow in Gboko. It made no difference anyway. Both schools were run by the same missionary group under the same principles and teachings. After Gindiri, he joined the army.
As children, we used to hear fascinating stories about the army and soldiers. One of the stories was that once you joined the army, you were given a very strong injection. The injection will give you supernatural strength and courage so that you will not fear even death. The problem with that injection was that if you were not so lucky, it could turn you into a raving lunatic, we were told. Listening to my childhood friend on the radio, I was convinced that the latter lot had been his potion. Nothing he said added up. This was the first announcement he was making of his coup. In the history of coups in Nigeria, some had failed, others had succeeded. We were not sure of the success of this one yet; the coup makers were yet to set up a government and yet they decided to exclude a large expanse of Nigerian land from our landmass and rusticate a sizeable population from our demography.
This to me was not a coup, not change of government but a declaration of war. My little knowledge of Nigeria then, and even now is that this is a country that cannot disintegrate peacefully. The Gwaza I knew was the least qualified person to start a war to break up Nigeria. It is true his Tiv ethnic group had exploded two times –once in 1960 and again in 1964 – but they did so not to disembowel Nigeria but to express anger that by discriminating against them, Nigeria was most unfair to them. When another ethnic group rose up and took to arms with the sole agenda of disintegrating Nigeria, the Tiv joined forces with others to bring them to heel. I wondered where he was going to get the fighting men to prosecute the war he had just declared.
I had a small family of a wife and two children at the time. All I did was to prepare them for church where I took leave of them. I never told them war was looming and two of our neighbouring states, Borno and Bauchi may soon become enemy territory. It was better to make the logistics available for our escape. I got to the home of our Military Governor, Group Captain Salisu Anbubakar. I met him with Abubakar Jijiwa the General Manager of Gongola State Broadcasting Corporation making a phone call. The tradition in those pre GSM days was that if you staged a coup the first thing you did was to cut off all telephone lines. What kind of coup was this that left telephone lines wide open while cutting large expanse of Nigerian land off.
Mercifully, the coup collapsed a few hours later and we were saved the agony of a civil war.