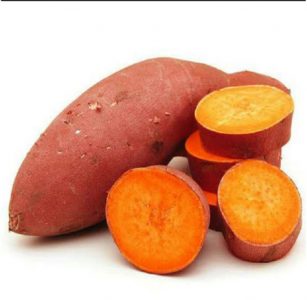 By Eileen Ihemadu
Orange-fleshed sweet potato(OFSP) scientifically known as Ipomoea batatas (L.) is a low priced crop, which is part of staple foods in most of sub-Sahara Africa that can be a year round source of vitamin A. It is a variety of sweet potato that have high or appreciable quantity of Beta carotene or "provitamin A" carotenoids; which are converted to retinol by the body after the food is ingested and can be used to handle what we call vitamin A deficiency(VAD) syndrome, in children or even in malnourished nursing mothers. Orange fleshed sweet potato can be grown with little or no fertilizer and is widely grown by smallholder farmers nearly in all parts of the country. It is environmentally friendly and has low chemical use. It is an inexpensive crop because it does not need much labour or fertilizer and can be grown by an indigent.
Most of the orange-fleshed sweet potato varieties contain 3000-16000μg 100g of β-carotene and this contributes to 250 to 1300μg 100g Retinol Activity Equivalents (RAE). Therefore, by using orange-fleshed sweet potato, it is possible to improve vitamin A status, increase the bio-availability of different micro-nutrients such as Fe, Zn, Ca and Mg, reduce vitamin A deficiency and hence reduce child mortality rates by 23-30%. One of the first signs of vitamin A deficiency is night blindness; lack of vitamin A causes the cornea to become very dry, leading to clouding of the front of the eye, cornea ulcers and vision loss. Vitamin A deficiency also causes damage to the retina, which also contributes to blindness. Because vitamin A also is important for resistance to infection and a healthy immune system, vitamin A deficiency can lead to death from respiratory and other infections.
One small boiled root of most OFSP varieties provides 100% of the recommended daily intake of vitamin A for children and one medium root provides all of the needs for most women of reproductive age. OFSP is a good source of energy, which are vital benefits for the majority of people affected by the deficiency who live in rural areas where VAD interventions such as supplements and food fortification are less effective.
According to research, vitamin A deficiency (VAD), is a major public health problem, those most vulnerable include pre-school children and pregnant women in low-income countries. Vitamin A deficiency is the leading cause of preventable visual impairment and blindness in children, which was estimated to affect between 75 and 254 million pre-school children each year. Furthermore, 26% of vitamin A deficient children live in Africa, with the largest number in Ethiopia (6.7 million). Estimated 250,000–500,000 vitamin A deficient children become blind every year, and about half of them die within a year of becoming blind. VAD significantly increases the risk of severe illness and death from common childhood infections, particularly diarrhea diseases and measles.
It is estimated worldwide, that VAD may be responsible for as many as 1.3-2.5 million deaths annually. In communities in which VAD exists, children are 23% more likely to die and 50% more likely to suffer from severe complications of measles. The available evidence suggests that 20–24% of child mortality from measles, diarrhea, and malaria and 3% of mortality associated with other infectious causes can be attributed to vitamin A deficiency. Improving the vitamin A status of young children in developing countries can reduce child death rates by 20–50%, suggesting that a substantial portion of their mortality is attributable to VAD.
Vitamin A deficiency is a serious public health problem in children under 5 years of age in Nigeria, with the condition affecting almost 1 in every 3 children nationwide. This figure is above the WHO biochemical cut-off value for a vitamin A deficient population. Even before the results of this survey, WHO had classified Nigeria among the 34 countries in the world with serious problems of VAD-related nutritional blindness and xerophthalmia. The prevalence data from the present survey therefore represent a further deterioration of the condition compared with data from earlier surveys.
Speaking on the issue, Dr. Lasisi Akinola Muideen an Ophthalmologist who is the Medical Director of Kubwa General Hospital Abuja said most children are born with an underlying deficiency because their parents are also deficient.
"In Africa we don't have the culture and concept of balanced diet. A lot of people feed on what they have, they don't make deliberate and conscious effort to bring together all the elements that would require their body to be in the best form and this especially in the rural area may inevitably not allow a proper supply. In some communities, we have a lot of endemic diseases like malaria, tuberculosis, diarrhea that in a way also depletes what is in the body".
"Children are very vulnerable because they are growing fast, because vitamin A itself is needed to maintain the growth of cells in the eye and many other organs in the body. And if you don't have a very rapid turn-over then your requirements will be small. But children we all know are growing very fast and also have a very rapid turn-over and if the supply is not sustained the results is more likely to show the signs of the deficiency than those that are stable inside".
The acting Executive Director of National Root Crop and Research Institute(NRCRI) Umudike, Professor Ukapbi J. Ukapbi, said, OFSP is a root crop and National Root Crop Research Institute has developed orange fleshed sweet potato that can grow very well in Nigeria. They have so many varieties in East Africa but when we bring them to Nigeria, they don't perform very well because of difference in climatic condition and soil types.
NRCRI Umudike created breeds that would grow in Nigeria ecological zones; it's a short growing plant. It can be grown with irrigation three times a year and can be harvested around four months. It requires a lot of moisture so it's advisable to plant during raining season.
He quipped that the major challenge people are having is availability of OFSP. "In some locations they are not available but if you come to National Root Crop Research Institute Umudike, or our sub-stations scattered all over Nigeria especially our station in Benue State in a location called Otobi near Otukpo, you can also get it in our Nyanya sub-station in Abuja and to some extent our sub-station in Igbariam in Anambra State which is sold at a subsidized rate to farmers. Farmers who want OFSP should make bookings ahead in order for them to prepare the planting materials. We also try to supply planting materials that are free of diseases".
Finally, he said there are so many challenges that hinder the circulation of OFSP ranging from post-harvest loss, inadequate storage facilities, poor roads and other infrastructure for distribution, inadequate research and development resources for developing and adapting food technologies. Another way to end the menace, according him is by educating and communicating with the people properly and then to do a proper public and primary health care intervention to prevent endemic diseases that actually depletes the current store of vitamin A in children and adults especially nursing mothers.