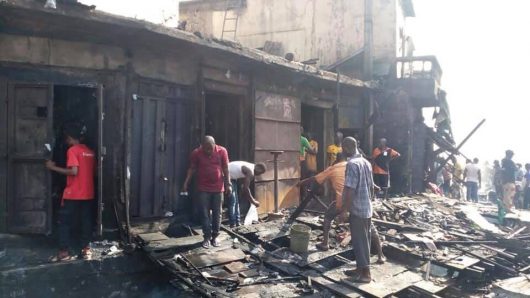 On Wednesday, October 16 2019, a filled fuel tanker exploded, starting a raging fire that completely destroyed the popular Ochanja Market in Onitsha, Anambra state. Reports said over 2, 000 traders lost wares in the inferno that destroyed 50 buildings, some 3-storeyed, others 2-storeyed. Eight persons, including a woman and her little girl, were reportedly killed.
Reacting the next day to the tragedy, President Muhammadu Buhari lamented: "The fire incident in Onitsha yesterday is sad and regrettable. I am profoundly touched by the sight of the charred remains of an innocent mother and her child, who are victims of this tragedy." On his own part, former Vice President Alhaji Atiku Abubakar said, "We've had many preventable fuel tanker tragedies. I received with sadness reports of a tanker explosion in Onitsha, Anambra state, which caused massive destruction to lives and properties in Ochanja Market area. My prayers and thoughts are with the families of the affected."
In a rather belated move, the Anambra government, days after the fire, named a panel, headed by Deputy Governor Nkem Okeke, to "determine the cause of the tanker explosion incident." A statement by Don Adinuba, the Commissioner for Information, said the committee would also find out why the state's fire service could not quench the fire and how the government could be of help to the victims.
Firstly, we at Peoples Daily want to condole with traders who have lost probably their only source of living in the fire and families whose loved ones died in it. May the Almighty God give them His Graces of courage and strength to bear their human and material losses. Secondly, we commend President Buhari, who not only sympathised with victims of the fire but despatched his Minister of Humanitarian Affairs, from Abuja, to assess the extent of the damage done in the absence of the State Governor, Mr. Willie Obiano. He also promised help to the victims to enable them pick up the pieces of their shattered lives. And lastly, we have only hash words for Gov. Obiano who couldn't rush back from wherever he had travelled to to take charge of the emergency back home. He didn't show leadership in this case. And his people are rightly angry.