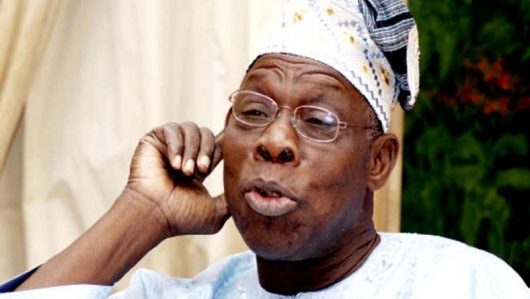 Former President Olusegun Obasanjo, in his first public remarks after the Nigerian general elections, has told young rising political stars that they could wrest power successfully from "ageing leaders" only if they joined forces during elections. He spoke Wednesday in Johannesburg, SA, at the launch of a book "Democracy Works: Rewiring Politics to Africa's Advantage" which he co-authored. He also asked young and upcoming African politicians to get their acts together if they expected to unseat older African leaders — many of them septuagenarians and octogenarians who have been holding on to power for decades through so-called elections. Obasanjo, now aged 82, posited: "If the youth think that they will get into power on a platter, they are not getting it right. They will have to snatch it; those (ageing leaders) will not let go."
He told AFP that African countries were making progress towards democracy, but much more remained to be done. "Africa will get to where it needs to be," he predicted. "Thirty years ago election was an aberration in Africa, but today no election is an aberration. Even those (rulers) who want to remain (in power)… they still go through some form of election. It's what somebody called autocratic competitiveness. They are still autocratic, but they try to show that they are competitive through election."
Taken at face value, Obasanjo's remarks cannot be faulted. Recall that in the Feb. 23 presidential election there were three younger candidates in the crowded race. Kingsley Moghalu, Fela Durotoye and Omoyele Sowore, all fell well behind the eventual winner and the runner-up, both in their 70s. We also recall saying in our editorial extolling the passage of the "Not too young to run" legislation youngers Nigerians aspiring to elective offices that older politicians would not, on the basis of the new law, simply step aside. They would have to fight their way to the top. That meant sometimes accepting mentorship from the old political horses they hoped to displace.
However, this is as far as we are prepared to accept Obasanjo's advice. The rest of it was given tongue-in-cheek. A former military ruler in 1976, Obasanjo became an elected civilian president in 1999 and was re-elected in 2003. In 2007 he tried unsuccessfully overstep the constitutional two-term limit. Even his failure to get a third term did not stop him from trying pull the political string from behind his successors. In a sense, he was as much a stumbling block against the rise to power of younger, more imaginative politicians. In the recent polls he supported a candidate well above 70 rather than one much younger.
Does this, therefore, devalue the message? By no means! The messenger may not be the right one to deliver a good message. We shall be mistaken to throw away the baby with the bathwater. Let our younger politicians ignore the messenger if they don't like his face or voice, but they must accept the message as true and run with it.