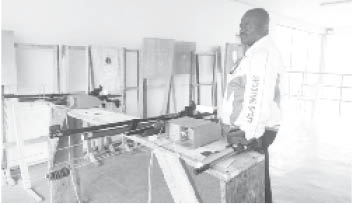 By Amaechi Agbo.
Ahead of the National Youth Games (NYG), scheduled to take place in Illori, Kwara State Capital, President of Nigeria Shooting Federation (NSF), Brigadier General Lonsdale Adeoye (rtd), has called in the ministry of Youth and Sports Development to include shooting sports to be among the games to be competed for.
The president made the call in a media briefing to intimate the media and Nigerians on the activities of the federation as well as plans the shooting sport has for the rest of the year.
Addressing the journalists at the National Stadium, Brigadier Adeoye expressed concern that few weeks to the commencement of the NYG, shooting sports has not be registered among the sports to be competed for adding that the youth game remains the best talent discovering platform for future shooters in the country.
"Since our return from Algeria, I have been worried. We are supposed to take part in the National Youth Games in Illori by September. Unfortunately, we are still seeking for approval from the ministry to participate in the games because we are already training. We have the National Sports Festival in December and we are still looking at how shooting could be included so that we can participate.
Shooting is not an easy selling sport. For us to bring kids into the sport, (for the Africa Youth Games) we had to reach out to their parents and schools and convince them to release their children for us. The enthusiasm the kids showed encouraged their parents to do their international passports and they came back from Algiers happy.
"We will be having National Youth Games, NYG in Ilori, Kwara state and we want shooting to be part of the games because it holds the key to shooting sport's discovering and nurturing of young shooters for the future. Once we are permitted to take part in the games, shooting will come out high.
He explained championships lined up for the year by the federation to include 'South South Challenge' in Rivers State which is a national Open Championship
Late Ogba Championship in Asaba, Delta State by November this year.
Korea Championship which serves as Olpics qualifer will take place from August 31st to September 16th.
Another competition the federation has comcluded registration to participate in is Target Spring Shooting Championship in the United Kingdom from October 5th 7th as well as Shooting Para-Championship in October. This is the first time the federation is having a full shooting championship for the disabled and it will take place in Molato, Italy between 2nd and 7 We are on course with preparations for the championship and we need our beat shooters in the game. The competition will take place from 2nd to 7th October.