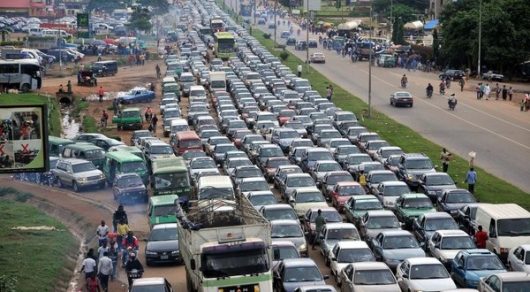 By Stanley Onyekwere
Security personnel have been implored to shun violation of traffic regulations of Abuja, the Federal Capital Territory (FCT), in order to ensure orderly human and vehicular movement in the Territory.
This caution is coming on the heels of the reinvigorated efforts by the FCT Administration to decongest roads in the nation's capital.
Making this call, Chairman, Special Ministerial Task Team for smooth traffic movement along the busy AYA-Nyanya road, Ikharo Attah, noted that it was observed that some uniform personnel were in the habit of driving against traffic, whenever there was traffic gridlock on the axis.
The chairman of the Traffic Control Team, spoke at the weekend, when he met with representatives of military and para military agencies within the FCT.
Attah, while speaking with the stakeholders at Mabushi Headquarters of the Directorate of Road Traffic Services (DRTS) warned offending uniform personnel would be made to face the full wrath of the law when they contravene FCT traffic rules.
He faulted some uniform men for contributing to the serious perennial gridlock on the AYA-Nyanya axis, and urged them to be role model to civilians, warning that offenders would not be spared.
According to him, the committee set up by FCT Minister Mallam Muhammad Musa Bello, last week had immediately swung into action to ease the traffic gridlock on the axis, despite the severe downpour rainfall during the evening rush hours.
He added that the stakeholders' interface was an emergence meeting with members and relevant agencies to discuss ways at sustaining the success recorded during its Thursday's operation.
Similarly, the Director of DTRS, Wadata Bodinga underscored the importance of synergy between government agencies in making the Special Traffic Control Team a huge success.
Recall that the Team, which consists of representatives drawn from different traffic management and security agencies, with its chairman selected from the media, is expected to submit a preliminary report for further action within two weeks.
However, some residents of the FCT and neighbouring communities in Nasarawa state have called on the FCT Minister to extend Traffic Control Teams work to other busy axis like Dutse-Bwari and Nyanya Checkpoint-Mararaba, following the success recorded so far in the area.