Nutritionist reveals mouth-watering festive recipes that are tasty and healthy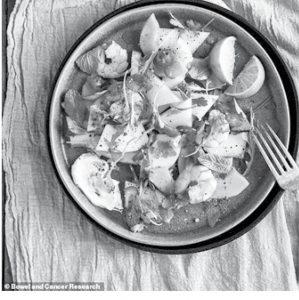 By Stephanie Linning For Mailonline
Christmas food is delicious, but the hearty meals and heavy sauces can also be decidedly difficult for the body to digest.
Fortunately a nutritionist has come up with mouth-watering recipes that are full of festive flavours – and are a little easier to stomach.
London-based expert Lily Soutter has created starters, mains and desserts that can be enjoyed throughout the Christmas period.
Each course targets a different issue that can affect your gut, offering ideas for sensitive stomachs, 'free-from' dishes for those with intolerances and lastly ingredients and preparation tips to boost good gut bacteria.
The Gifts For Your Gut recipe plan is created in partnership with the charity Bowel and Cancer Research. Scroll down to see the recipes in full…
Refreshing melon and king prawn starter
Ingredients
1/4 honeydew melon chopped into chunks
1/2 papaya chopped into chunks
1/2 red chilli, finely chopped
1/2 lime, zest and juice
1 tbsp. extra virgin olive oil /sesame oil
1/2 tbsp. white wine vinegar
1 tbsp. chopped parsley
1 tbsp. chopped mint
1 tbsp. chopped coriander
16 small King prawns (cooked)
Salt and pepper
To serve
To serve you may wish to add more herbs, rocket, lime wedge, and coconut yoghurt (optional). Simply combine all ingredients and serve with rocket.
Gut friendly facts
This is an easy to digest, low FODMAP starter. FODMAP is an acronym which stands for Fermentable, Oligosaccharides, Disaccharides, Monosaccharides and Polyols. These are names for a collection of carbohydrates (sugars) that aren't fully absorbed in the gut, which may trigger symptoms in those with IBS.
Slow cooked turkey, orange and fennel tray bake
Fresh twist on a festive favourite: This recipe gives you a new way to enjoy the heavy-hitters
Ingredients
1 small turkey
1 tbsp. extra virgin olive oil
2 bay leaves
1/2 jar marinated artichokes or Jerusalem artichoke is able to source
2 cloves of garlic
2 large oranges, zest and juice
2 tbsp. fennel seeds
200ml dry white wine
Salt and pepper
Method
1. Combine all the ingredients, apart from the wine, in a oven bake bag, seal well and leave overnight or for a few hours in the fridge.
2. Preheat the oven to 180 degrees Celsius; bring the turkey to room temp while the oven heats up. Put the turkey (still in the tied up bag) in an ovenproof tray.
3. Cook for 1 hour at 180 (turn the turkey upside down half way through to coat the topside of the bird in juices).
4. Turn the oven up to 220, remove the turkey from the bag and cook for a further 40 mins on high to crisp up the skin and ensure the bird is cooked through. (Cooking time depends on weight – look at weight for cooking times)
5. Remove turkey from tray and leave to rest under foil for 30 mins.
6. Meanwhile, put the juices in the tray back in the oven to reduce. Taste the sauce for seasoning.
Gut facts
Many Christmas meals are high in fat, which can be a top trigger for indigestion and heartburn. This dish contains just a small amount of heart healthy olive oil and comes with polyphenols, which may offer benefits to our gut microbiome.
Leftover roast veg and hummus mezzo bowl
Ingredients
Homemade hummus
1 can of chickpeas
2 tbsp olive oil
2 tbsp greek yogurt
1 tbsp nut butter or tahini
Zest and juice of one lemon
2 tsp smoked paprika
1 tsp chilli flakes (optional)
1 clove of garlic
Salt and pepper to taste
Carrot salad
1 large carrot grated
1 handful chopped parsley
Salt and pepper to taste
1 handful of dried cranberries
2 tbsp lemon juice
2 tbsp olive oil
1 tsp Dijon mustard
1 tsp honey
Method
Blitz all ingredients in a food processor until smooth – add more yoghurt or olive oil to reach the desired consistency.
Taste for seasoning and garnish with chopped herbs and sesame seeds (optional).
For the carrots, simply combine all the carrot salad ingredients and mix well.
Serve the hummus with leftover vegetables, rye crackers and carrot salad.
Alternatively, you can combine the leftover roasted carrots and parsnips in the food processor with the hummus ingredients for a delicious roasted veg hummus.
Mouth-watering breakfast: Use your sprouts to create this filling Boxing Day breakfast
Ingredients
Handful of leftover cooked sprouts, shredded
Handful of leftover roast potatoes
Fresh green herbs, finely chopped
1 egg, beaten
Method
1. Combine all the ingredients in a large mixing bowel, mashing the potatoes as you mix. Season with salt and pepper until it reaches a consistency where the mixture is beginning to come together.
2. Shape into small burger sized patties and pan fry in a little olive oil until golden on each side.
3. Serve with soft poached eggs and smashed avocado, wilted spinach, feta or chorizo for a delicious brunch or breakfast.
Sweet treat: Poached pear crumble is easy to whip up – and a real crowd pleaser
Ingredients
2 conference pears, just ripe
1 tbsp. date syrup/honey or brown sugar
200ml water
50ml seasonal spirit (brandy, rum, damson vodka etc.)
1 tsp. cinnamon
1 tbsp. coconut oil
1 tbsp. honey/date syrup etc.
1 tbsp. ground almonds
1 tbsp. ground flax/linseed
1 tbsp. chia seeds
1 tsp. cinnamon
1 tsp. ground ginger
Pinch of salt
2-4 tbsp. coconut yoghurt
1/2 tsp. vanilla paste (with seeds)
Method
Crumble
1. Peel the pears and cut in half.
2. Heat a small frying pan, add water, sugar, spice and spirit with the pears
3. Cook until the liquid has reduced and the pears are softening slightly
Crumble topping
1. Melt the oil; sweetener and spices then combine with the remaining ingredients.
2. Toast the mixture on medium heat in a non-stick frying pan for 5-10 minutes until golden brown. Leave to cool until crisp.
Yoghurt
1. Combine, taste, adding more orange/vanilla if wanted. Optional: add honey or sugar.