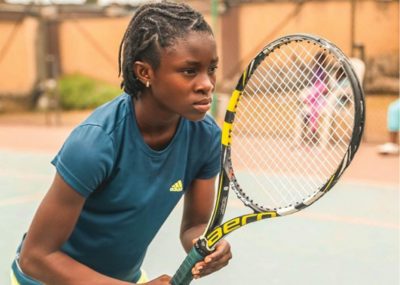 By Albert Akota
The Nigeria Tennis Federation (NTF) and Tennis Management Company Limited (TMCL) have signed a Memorandum of Understanding (MoU) to stage two tennis major tournaments in Nigeria this year tagged Nigerian Tennis Majors.
Disclosing this at the MoU signing ceremony at the Abuja National Stadium yesterday, the NTF President, Ifedayo Akindoju said the merger tournaments will hold in Abuja and Lagos State in June and October or November respectively.
He disclosed that the winners in the Singles category of the tournaments will go home with a prize money of N10 million, adding that "the highest Prize money we have had is N1 million."
"We are raising it high now to make it attractive and encourage people to the game because we know what happens in football where much money is involved. The game is for both male and female fourteen years above as well Nigerians in Diaspora"
According to him, the tournaments would be accompanied by mind-blowing cash rewards.
In his words, Engr. Akindoju said: "We're signing an MoU with the Tennis Management Company."
"They shall be sponsoring two major Grand Slam tournaments. Tournaments that the prize money will be around N10 million for the Singles winner"
"We'll be having two of them yearly. One is in Late May in Abuja, while the second will be in Lagos, around October or November." he said.
In addition, the NTF president revealed that the 2018 season calendar is presently being worked on to be released soonest and that the first national tournament and Futures will start in April.
He said the Majors will be open tournaments with athletes from 14 years and above qualified to participate.
Akindoju also disclosed that the tournaments will only be open to Nigerians both home and abroad.
Also speaking before the signing of the agreement, Chairman of the TMCL, Anire Kanyi said "we are here to raise the bar of tennis in Nigeria because we believe Nigeria has the talent."
"We also believe that people who put their energy into the game should be rewarded," he added.
Kanyi said the tour may be increased after this year to other cities of the country.